We catch up with Spicks & Specks' Adam Hills. Hills divides his time between London and Melbourne, living an endless summer of stand-up comedy, but despite a commitment to sustainable living, he hasn't found a way to joke about it.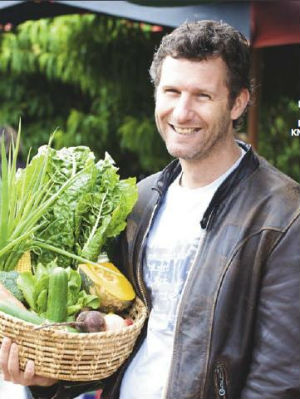 What does living green mean to you?
Living green is about living clean; of thinking about the consequences of the way you live and eat and drive around town and all that kind of stuff. The planet will live regardless of what we do to it, but it will kick us off. It's like Mother Nature is a landlord who is eventually going to step in one day and say, "You know what, you've trashed this place. Get out of here."
What do you do to reduce your carbon footprint?
I constantly fly around the world doing stand-up comedy, unfortunately. I've been offsetting wherever I can; it's so easy to check that box when you buy your ticket. It is ridiculous, in a way, that the way to make people green the planet is to make it easy. In London, I've got a flat in a block of five. We've got separate garbage bins for everything: glass, plastics, food. I like the way that recycling has been ingrained in our psyche to the point where you don't think, "I must recycle." You just think, that's what you do. In Melbourne, I'm looking at buying a house this year. I've been thinking I want to start growing my own food and collecting rainwater.
The global economic crisis has made me realise suddenly that I'm relying on everyone else to do everything for me. I'm relying on there being fruit and veg and everything else at the supermarket without actually thinking about where it comes from. I'm becoming quite evangelical about healthy eating and organic food. That's my thing at the moment.
How does Australia rate compared to London?
Up until quite recently I thought Australia was a long way ahead of the game. I don't think we've fallen behind but London has caught up. My local supermarket sells big canvas bags and, of course, they'll charge you if you want plastic bags. But if you forget, there's a big box of old plastic bags that you can take on the proviso that you bring them back.
How did your upbringing prepare you for living green?
I'm from the Sutherland Shire and my parents' house backs on to bush. We were always close to the animals around us; we had kookaburras and cockatoos sitting on the balcony. On the other side of the railway line is the Royal National Park where we would often go for picnics.
Are there any natural places that you love to holiday in?
My grandfather lives down the south coast of New South Wales at Tuross Head. We holidayed there as a child and I played golf, went sailing and spent time on the beach. I took it for granted, but certainly as I get older I realise how important it is to spend time in the countryside, whether that's in Australia or Ireland or Scotland or wherever. I'm becoming a little bit more aware of the natural energy you get from the countryside. I was just blown away by Uluru when I visited. You think you're going to be a bit immune to it because you've seen it so many times, but it's just so much more powerful that you think. The Aboriginal people knew there were spirits in the countryside. In a way, we're just discovering what they've known for years.
Do you believe that everyone can make a difference?
There's a Mother Teresa quote: "We can do no great things, only small things with great love." Like saying I'm not going to buy tomatoes that are wrapped in plastic at the supermarket. They actually have their own cover; they don't need another cover on top of that, that doesn't make any sense. If everyone starts eating better food,organic food, then there won't be a market for rubbish. It's a slow process and it's OK that it's one step at a time.
What sort of car do you drive?
I drive a very fuel-efficient car, but the next one I get will be a hybrid. When I'm in London I don't drive anywhere because the public transport is so amazing. My plan for this year is to cycle more; I'm going to buy a bike.
Why did you choose to be photographed at CERES (Centre for Education and Research in Environmental Strategies)?
It's a great place to learn about living carbon neutral and everything to do with organic farming. And they do great food. A friend of mine took me there and we had this great organic breakfast then just wandered around among the vegetable gardens and the chickens. So I wanted to return.
Can humour lighten the sustainable message?
I've wanted to do some stand-up about the environment but I could never make it funny. There is a ridiculous, worthy stigma associated with living well. If you can convince people to see that they don't have to be out there banging a drum saying "save the environment" they could just recycle and grow some food in their own backyards. With this interview I feel that I've had my annual [sustainable living] check up. The prognosis is, you've been on the planet for 38 years and it turns out that you're doing all right. But how about you come back in a year and see us again and we'll see how many more things you've picked up on. Hopefully I will have news to share on a number of fronts. I'm quite happy to say that in a year's time I will have found some environmental comedy. The whole beauty of comedy is that you can sugar-coat the pill; if you can find the funny angle, people don't feel like they're being preached to