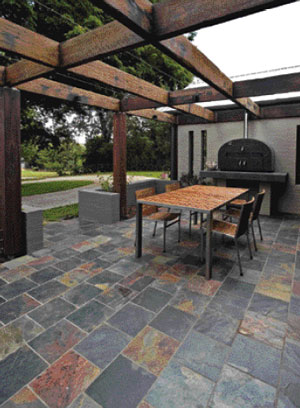 From the entertaining area to the pool, natural stone lends a look of sophistication
There is no denying the timeless elegance and enduring beauty of natural stone as this sophisticated property, with its pergola-covered entertaining area and spacious pool surrounds amply proves.
This unique riverside home has made liberal use of natural stone both internally and externally. The result is a series of seamlessly connected living areas that have a wonderful sense of warmth and conjure up a feeling of luxury.
Flame slate has been used extensively for the paved areas, starting with the flooring in the entry to the home and extending to the areas around the garage. Flame is a predominantly grey slate from India with accents of earthy-red and orange. The rich tones of this premium-quality slate work wonderfully with the colouring of the timber beams of the entertaining area and the natural surrounds of the property.
Elegant brushed basalt has been used as a bullnose on the external stairs leading to the luxurious pool area. It has also been used as a body tile around the outdoor entertainment area, thereby creating a safe, slip-resistant surface and turning the overflow of the pool into a water feature. Referencing the home's entry, Flame Indian slate was used around the pool water line.
The random form of Texture Stone, delicately coloured Indian sandstone, was used to create stepping-stones that lead from the pool to a conveniently located storage area. The subtle colour variations in the stone give it a sense of warmth and make it well-suited to a variety of settings.
As you can clearly see, the various types of natural stone have been expertly integrated into the landscaping and interior of the home, helping to give the property, which claims a prime position on the Brisbane River, an air of distinction.
All the exquisite natural stone products used in this striking property were supplied by Slate & Stone Products, a leading importer and distributor of natural stone tiles, pavers and cladding.
SLATE & STONE PRODUCTS
Springwood Mega Store & Display
105 Park Road
Slacks Creek Qld 4127
(Opposite Watland Street)
Tel: (07) 3442 2555
Fax: (07) 3442 2599
Email: sales@slatestone.com.au
Nerang Store & Showroom
53 Lawrence Drive
Nerang Qld 4211
Tel: (07) 5596 3288
Fax: (07) 5596 0005
Email: nerang@slatestone.com.au
Website: www.slatestone.com.au
Photography by Glenn Weiss