Of innovative design, this new alfresco living area is made for year-round entertaining.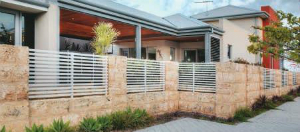 Living on a small block, Ross and Sue wanted to maximise their outdoor space and open the back of the house to the garden to make the most of Perth's superb climate. Their goal was to add value to their home with an alfresco extension, but they just couldn't find the right company to do the work.
The construction companies they contacted all seemed more interested in building new homes or taking on major extensions and their work came at a very high price. Meanwhile, the patio companies could not offer the design experience they needed and seemed unable to offer a solution that would form a seamless extension to their home.
Ross and Sue contracted Patio Living to create an innovative living space that would extend the home's living space outside into the garden and would not look as if it had been added on when viewed from the outside.
Patio Living sourced a timber lining that created a really warm contrast to the existing paving and the eaves between the alfresco and home were lined with the same timber to integrate the extension into the home.
The design provided for more than one entertaining area with a spa at one end and an informal table and chairs at the other. The alfresco roof frame even incorporated a fixing for the flat-screen television around which family and friends now gather to watch the football and cricket.
Downlights in the alfresco roof provide subtle lighting in the evenings and remote-controlled blinds were added to create an environment that would be protected from the elements in winter and the setting sun in the warmer months.
A simple, clean design with plenty of space and lots of quality finishes means the owners can relax and enjoy their new-found year-round alfresco area, comfortable in the knowledge that they've not only improved their lifestyle but have added enormous value to their home — all without enormous expense.
Patio Living has design teams and displays in Perth and Adelaide as well as a network of experienced and professional dealers.