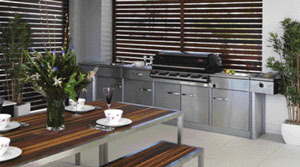 Get acquainted with the outdoor kitchen this summer — and do it in style
Thanks to our warm climate, Australians are continuing to adapt their busy lifestyles to spend more time in the great outdoors, which means the outdoor kitchen trend continues to grow in popularity.
BeefEater Barbecues has been producing some of the finest quality outdoor barbecues for years, which make entertaining your family and friends a breeze. In fact, they've been making this authentic Aussie icon for more than 20 years.
The BeefEater Outdoor Kitchen range is based on the award-winning Signature barbecue series: functional, robust and feature-packed. Its solid construction and stylish good looks give you free rein, allowing you to mix and match modular components to create your own outdoor cooking centre, designed to make entertaining a pleasure.
Choose from a range of integrated modules designed for every purpose including multiple barbecues in two-burner and four-burner configurations, cooktops, cabinets, trolleys or pedestals, drawers, bench tops, side burners, even fridges and a kitchen sink to create the barbecue of your dreams.
BeefEater offers a product to suit the budget of all barbecue fanatics and, with the trend towards outdoor entertaining on the rise, being able to find a barbecue to suit your needs and your wallet has never been so important.
The Discovery Outdoor Kitchen, available in various sizes to suit any backyard is purpose-built for those times when you really do need everything — and you need it close at hand. Completely modular, it features robust, heavy-duty galvanised cabinets with stainless-steel doors, a side burner and cutting board, condiment containers and a cabinet with sink. There's even an optional fridge module.
With the convenience of the BeefEater Outdoor Kitchen, all preparation is done outside, allowing you more time to spend with family and friends. Also, its outstanding durability, faultless performance and functional design are guaranteed to turn your friends and neighbours green with barbecue envy.
To find your nearest specialist retail dealer, visit the BeefEater website or call their customer care line.
For more information visit www.beefeaterbbq.com