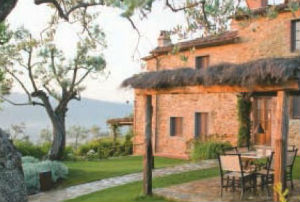 Creating a themed outdoor room is a simple way of turning an otherwise ordinary outdoor space into your very own idyllic retreat. A popular trend at the moment is the Tuscan-inspired outdoor room, which not only exudes all things Tuscan but will have you believing you are in the heart of the Italian countryside every time you are in your outdoor room.
By Natalie Raad
The Tuscan theme
The Tuscan theme is categorised by simplicity and nature. The rich cultural heritage and simple elegance is what attracts many people to this style. More and more homeowners are opting for this theme when it comes to designing their outdoor rooms, simply for the fact that the Tuscan style is both unique and beautiful. The Tuscan-themed outdoor room uses a palette of earth tones and natural materials to accomplish its magic. An outdoor room inspired by Tuscany is all about simplicity and a natural atmosphere.
Materials and furniture
For a Tuscan-themed outdoor room, you'll need to use materials such as stone and tile for the flooring; for paths leading to and around the garden, use gravel. This will help create a natural atmosphere. Plaster is suggested for the walls to add texture and a natural feel, or you could consider walls — or one feature wall — of stone. In terms of furniture, tables can be made of stone or timber. Tile mosaics for feature panels on the floor or tabletops are also very popular when it comes to creating a Tuscan-inspired outdoor room.
No decorating theme centred on nature would be complete without wood. A Tuscan outdoor room makes good use of this natural resource, with its exquisite textures and intricate details making wood a perfect complement to the Old World style that is Tuscan. Wood can be featured in an outdoor room in many ways. One example is in the exposed framework, with the large wooden beams creating a rustic look. Another example is through the construction of furniture. The aim is to make the furniture look aged and antique. By staining and "aging" the wood, you can create an antique feel while still maintaining rugged endurance.
Accessories and fabrics
Accessories are a big part of Tuscan outdoor rooms, as they work to highlight the cultural heritage that the Tuscan theme is based on. Homemade accessories will further enhance the true Tuscan spirit. Ceramics are very popular in Tuscan decorating, as are the materials silver, copper and iron. Tuscan themes would include olives, grapes, wine and pottery, scrolled ironwork, stone, marble and handcrafted tiles. Terracotta is another very popular Tuscan material.
Fabrics also feature predominantly in Tuscan-style outdoor rooms. Savannah and tobacco cloth, burlap, abaca and fibres from banana and coconut trees can all be used to create a natural lived-in space. These materials are very versatile, so the only limitation when it comes to their use is your imagination. Use these fabrics for curtains, wall decorations, room and space dividers, privacy screens, table placemats or conversation pieces on your coffee table. You can also create floor coverings using these Tuscan fabrics given their weight, density and flexibility allow for many applications.
Colour and lighting
When it comes to colour, yellow, red and rust tones are very popular Tuscan shades and should be used to decorate your outdoor room. Consider red or yellow cushions and accessories such as vases, ornamental pieces and outdoor rugs that exhibit these shades. Any material or colour that reminds us of the ocean, the earth, the blue sky or the deep rich forest will bring a warm and inviting feel to a Tuscan-inspired outdoor room. Tuscan colours, textures, fabrics and accessories will enhance your outdoor room and have you dreaming of the Italian countryside.
Lighting in a Tuscan outdoor room is subdued and subtle. Modern lighting fixtures would not suit this type of theme so opt instead for light fixtures made of wrought iron. A recessed light that does not interfere with this style will work better than something in chrome or stainless steel.
Tuscan décor
Adding the finishing touches to your outdoor room is easy with Tuscan décor. Emphasising warm colours, natural materials and simple details, Tuscan décor exudes comfort, simplicity and peace. Tuscan décor is essentially a celebration of the beauty of nature. As such, you'll want to emphasise rustic, country elements; earth tone colours (think warm golds, terracottas and greens); natural materials like wood and stone; simple details; and time-worn, aged and distressed decor. By simply adding outdoor accents that fit within the theme of Tuscan decorating, you can take your outdoor room from basic to charming Italian country.
Water features
A key element in many gardens found in Tuscany is a fountain and, if you want to give your outdoor room or garden an authentic feel, find a way to incorporate a fountain or water feature. One idea is to place a fountain on the lawn or at the end of a garden path where it can be seen and heard from your outdoor living space. Opt for a simple tiered fountain in warm terracotta colours or choose a more detailed pedestal fountain. Another option is a wall-mounted fountain or a wall-panel style water feature with an Italianate pattern. Remember, when selecting a Tuscan-style fountain, simple and natural should be your two key criteria. Choose materials such as stone or terracotta as opposed to modern metals and keep the detailing uncomplicated so that it reflects the beauty of nature in botanical motifs and patterns.
Plants and statues
Another key feature of Tuscany is its exquisite statues and, for a true Tuscan outdoor room, a statue or two is a must. Any kind of statue (in earth tones or natural stone colours) will work in a Tuscan-inspired outdoor setting. Provided your statue is grounded in the fundamentals of Tuscan décor — natural materials, aged appearance and organic details — just about any statue will complement your Tuscan theme.
And don't forget the plants. A vine wrapping around a pergola would look the part, as would a climbing rose, wisteria, bougainvillea or star jasmine. Fill pots with brightly coloured perennials or dwarf citrus trees. For surrounding garden beds or borders, consider a colour palette of greys and greens, perhaps accented with swathes of yellow. If planting trees, consider olives, live oak, Italian cypress pine, bay or citrus.