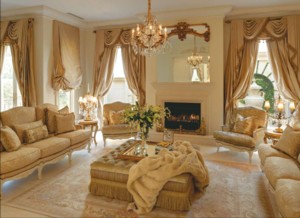 Sandra Traviati was fortunate to begin life with an innate love of all things beautiful. With both French and Italian ancestry, she has a passion for classical design, particularly French style, which has been with her from an early age. Her earliest childhood memories are of grand family dinners around a table at home. Dinner was always a formal affair which one had to "dress up" for.
The table was immaculately set with shiny silver cutlery and candles featured among freshly cut flowers from the garden. An occasional dinner guest meant dining in her mother's "French salon". White lace tablecloths were adorned with gold cutlery, crystal glasses and gilded candelabras and an open fireplace in the room was surrounded with gold brocade sofas and Louis XV tables. Such wonderful memories from her years in the family home sealed her fate: a love affair with French style was born.
Many years of research in classical architecture and design led Sandra to develop a strong appreciation of decorating using architectural principles as a primary focus. Proportion, scale and symmetry are as critical to her as the furnishing and finishing stages. The French address symmetry and proportion with enormous sophistication and reverence, and have done so for many years. "In our rapidly changing world I believe we find comfort in continuity and tradition and embrace a certain sense of belonging," Sandra reflects. In November 2010, after seven years of researching product lines throughout Europe, Sandra founded Chateau Couture, believing that people find solace in the enduring legacy that classical design offers.
"The concept of creating a family home with a lifetime of memories for generations to relive and enjoy evokes a sense of purpose and self-fulfilment," she says. The design philosophy behind Chateau from the past and blend it with the functionality of today to create a timeless legacy. From the moment clients step into Chateau Couture's showroom, they are met with undivided attention. Every project is valued with equal importance, whether it's the purchase of a stone mantle or the need for a full design service incorporating the complete reworking of a home, from construction through to the final fitout. "We love to work with our clients, to translate their experiences and dreams into reality," says Sandra. A favourite quote of Sandra's that continues to inspire her is from Philippine de Ganay. "It is the happiness of living in a place which was loved in the past, is still loved and still will be, we dare to hope, long into the future." Memories are made of this.
Q&A with Sandra Traviati
What inspires you when you design?
Inspiration is continually derived from researching European architecture and interiors. I have spent many years collecting a huge number of books on my travels and taking endless photos that have formed the basis of an extensive library in classical design.
What is your idea of the perfect colour palette?
I have always preferred to keep a neutral colour palette for walls and floors and keep the richness of colour for soft furnishings. For me, texture is as important as colour and I love introducing texture on hard surfaces to enhance architectural detailing.
How do you approach a project?
Before any design concepts are considered, it is critical to have a series of meetings with clients to obtain a comprehensive brief to determine what their expectations of the project are. Many clients have a folder of different interiors or photos of exterior façades that they have accumulated over time that contain some aspects they love.
What is your favourite texture?
Undoubtedly, my favourite texture to work with is cast French limestone. I specify limestone as often as possible for the exterior of projects to give a true Parisian feel and replicate it in the interior, using cast French limestone for mantles, walls and architectural mouldings. Cast stone comes in an extensive colour palette, is lightweight but has incredible tensile strength. The look is timeless and gives a level of class that the French are renowned for.
Tell us about your perfect getaway.
On my holiday wish list is a cruise from Prague to Paris and then another on the Rhine, Rhone and Moselle rivers to Monte Carlo. A weekend at Jacques Garcia's Chateau du Champ de Bataille would end a sensational month.