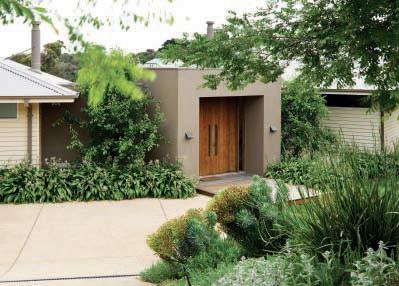 Designed for a tough coastal location, this front garden makes a strong statement
By Karen Booth
Photography Patrick Redmond
While such important design principles as scale, proportion, harmony and balance come into play for all outdoor spaces, designing a front garden is quite a different proposition to designing a backyard. This is because there are basic differences in how we need our front and back yards to function.
A back garden is usually about accommodating a family's lifestyle needs and creating spaces that are to be used. Designing a front garden is often more about making an impact, which was clearly the case here, as designer Jessica Derrick of Style n' Simplicity explains.
"The owners wanted the front entrance of this coastal home to make a statement — and they wanted to make the front door a real feature," says Jessica. "They also wanted us to use a lot of soft, flowering plants throughout the garden."
Jessica has created the lush, plant-filled garden the owners wanted. One of the most eye-catching elements is the home's front entrance. Manchurian pears are planted each side, with a mass planting of Renga Renga Lily beneath, making the front door the focus of the garden. To soften the strong, angular lines of the home's architecture and minimise the impact of the large driveway and parking zone, there are curved garden beds and a large lawn area.
Town planning regulations required the use of some indigenous plants, so the garden boasts a mix of exotics and natives. "For example, olives were used for screening and native hibiscus was used for height to soften the outside of the house and also for a splash of colour," explains Jessica.
"While the emphasis was on drought-tolerant plants, a bore was put in, which meant we could water the plants and lawn at any time. An automatic irrigation system was also installed and water-storing granules were added around each plant to help the soil absorb water and retain it for longer."
Not wanting the house or garden to feel closed in, the owners decided they didn't want a fence around the whole front of the property. "What we did do was extend the brush fence out from one section near the side of the house and then completely cover the backyard area. Brush was used to blend with the coastal feel," says Jessica.
"Time was the biggest challenge with this project," she adds. "We only had two weeks to complete both front and rear gardens as the owners wanted them done by Christmas. Adding to the challenge was the fact that the home builders were still on-site, so there were different tradespeople rushing around." However, thanks to good project management, the gardens were finished on time and to the owners' complete satisfaction.