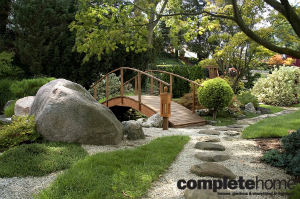 Turn a leisurely stroll around your garden into a fascinating step back in time
Story: Emily Coakes
As life moves ever forward at an alarming pace, it is always a pleasure to step into an environment that is natural, still and deeply grounding.
The garden is a place where things seem to slow down to a relaxed tempo, the sound of the breeze through the trees slows your breath, the playful song of the birds alerts your ears to their presence, and a surprise of colour and diversity awaits around every corner.
Sound good? If so, you can create a sense of peace and timelessness in your outdoor living space by incorporating plants that connect with the past and reflect our heritage and the passage of time.
Unlike the furtive annual that stretches its wings for only a season, the cycad family has existed on the planet for more than 200 million years. Their resilience and adaptability reflect a rarely seen solidarity.
Cycas revoluta, commonly known as 'sago palm' is undoubtedly the most famous worldwide. Its rigid fern-like fronds extend full circle to create a vast canopy of dense foliage. Unique in their seed forming abilities, the cycads produce male or female reproductive structures on separate plants, so determining the sex of your cycad is just one of the many exciting encounters you have in store.
Moisture-savvy and hard-wearing, these ancient plants are hard to destruct. For maximum effect, combine them with any of the colourful cordylines, Dracaena sp. and other foliage plants that offset their magnificent structural form. But whether planted en masse, potted or standing alone, these prestigious growers will magnify your garden's appeal.
You might also want to look for Zamia furfuracea at your local nursery. The stately cardboard palm is of similar heritage to the sago palm but hosts a rounder, duskier leaf.
Young cycad 'pups' readily proliferate and are useful as understorey plants. They can be left to clump or you can divide and spread them throughout the garden. Mature plants can extend to 2-3m wide so select a position that will accommodate their growth.
Originating on our home soil, the Australian native genus Macrozamia harbours numerous spectacular cultivars that are somewhat softer and more graceful in appearance but equally robust. Try combining a collection of these global growers, which have proven they can withstand the test of time.
Although hardy, cycads can become infected with 'scale' insects and pose a problem if left untreated. A quarterly application of Eco-Oil certified organic spray should keep them at bay. Infestations allowed to flourish will require a stronger systemic spray such as Yates Confidor to curb the problem.
The grass tree (Xanthorrea sp.) remains the grandfather of ancient Australian icons. Symbolic of eras gone by, these plants are in no hurry to get where they're going. With a lifespan of more than 600 years, grass trees can grow as little as 1-2cm in a year! Reaching 4m with multiple heads when advanced, the grass tree can anchor a space and mark the passage of time, making it a wonderful gift to celebrate a birth.
Seed grown varieties are readily available in nurseries and these have accelerated growth rates due to their cultivation method.
If you need a head start and want to make a dramatic statement, certified mature specimens can be purchased from local nurseries. Planting a series of heights and sizes creates visual interest and variation. Try mulching the soil underneath your grass trees with decorative rock, scoria or cracker dust. This style of mulch media will look fantastic and prevent weeds and evaporation.
Be sure to look for the Australian conservation symbol, your guarantee that your grass tree is a protected specimen approved for sale in Australia.
Amid the impermanence of life you can introduce some stability by taking a walk among the ancients and soaking up the wisdom of the ages.
This article was prepared by Emily Coakes, a landscape designer and horticultural consultant with Boyd's Bay Landscape & Environment, on behalf of the Australian Institute of Landscape Designers & Managers (AILDM). If you would like to find an AILDM member in your area, visit the website: www.aildm.com.au