A soaring city apartment where the views inside are just as spectacular as they are outside.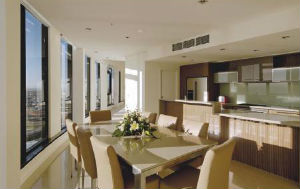 Looking at this home from the inside, the only thing that gives away the fact that it is an apartment is the soaring view and high position in the skyline. The two-storey space is magnificent in every way, with the feel of a home made possible by some S.A.C Construction (Aus) Pty Ltd magic.
The company approached this apartment from a shell and fulfilled the client's brief to design and create a unique home of very high quality and standard that reflects its stunning surroundings.
S.A.C started by maximising the space, opening it up, and ensuring ceilings were kept high. A main priority was to also capture the magnificent views of Melbourne. This was done by not closing off the levels of the home, but keeping double-storey windows open in the main living area. The apartment is on the 42nd floor of the block, which held a few interesting logistical issues. According to Sam Caruso "getting materials to the 42nd floor was one of the hardest parts of the creation".
Four bedrooms feature, with a huge master bedroom and ensuite being the perfect city escape. There was also plenty of storage afforded with roof space used for storage and basic good design by S.A.C making the most of the space. One hundred per cent llama wool carpet was incorporated throughout the apartment, which gives it a very fine and soft quality. Porcelain was used for kitchen tiling, and the kitchen also features a glass splashback and reconstituted stone benchtop. Smeg stainless-steel appliances also add a contemporary touch, which is continued into the bathrooms with chrome fittings and in lighting with a grand chandelier. Off the main bathroom, a fully enclosed cedar sauna provides all-year-round heat, and blue stone tiles give a rugged effect.
The whole apartment is truly breathtaking, with room after room of quality design and spectacular views. S.A.C Construction has absolutely demonstrated its flare for making a space with views such as this even more spectacular.
Photography by Andrew Lecky
S.A.C Construction (AUS) pty ltd
744 Bourke Street,
Docklands Vic 3008
Mob: 0417 325 609
Email: saccon@bigpond.com