Whether your entrance way is full of architectural details or not, furnishings should be in scale with the room.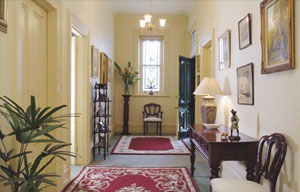 When it comes to decorating, entrance halls are a unique proposition. They are the home's introduction to guests and the space that blends outdoors with indoors. As such, they often carry architectural features not seen in other parts of the home. Because of their unusual physical shape and size constraints they also offer one-of-a-kind challenges not imposed on larger rooms. Clearly, there is more to creating a great entrance hall than just arranging the furniture.
In many great entrance halls, the architecture of the home is thrust on the observer by way of a staircase, an archway, leadlight entrance door or some such character-fi lled element. If your entrance area contains some such delightful architectural feature, then consider yourself blessed with an entrance with "good bones", so to speak. For you already have a focal point, an eye-catching ingredient from which to grow an interesting room.
The architectural elements on hand will be closely aligned to the period of your home. Federation and pre-Federation homes will be blessed with high ceilings, panelling, intricate arches, wainscoting, ornate cornices and more. During the decades and building styles which followed, these architectural delights gradually slipped away, our entrances became smaller or more open plan and we suddenly found ourselves with a need to create a focal point or talking point where none existed.
Of course, given the time, the resources and the budget, we can create, borrow or buy an architectural focus for any entrance way. A fretwork arch is an easy but striking option for the modern country entrance hall, as is some faux panelling or wainscoting. Pressed-metal ceilings are easy to instate in any home and are available in a plethora of designs to suit any mood.
I concede that you are either blessed with a grand timber staircase or not, but you can add stately elegance to an entrance way with a formidable classic hallstand, a sizeable dresser or a long hall table.
Corbels and columns also add character and definition to entrance halls but here you are not limited to having them incorporated into your architecture. If such architectural features exist, so be it; if not, invent them. Rummage around architectural salvage yards, antique stores and renovation centres for old corbels and have them hung in the hall as a place to showcase your collectables. And who says columns have to be part of the wood work? A fine cement or sandstone column could sit either side of an entrance or stand alone to hold a bust, birdhouse or other family treasure. You could even opt for a faux-painted column created to suit your situation and room size by hiring the services of a good trompe lo'eil artist.
If you long for an archway or carved mantle-type feature where none exists, look for an interesting sandstone or terracotta frieze at a garden centre and hang it in its place. Wallpaper borders can also often simulate architectural friezes, particularly those inspired by the architecture of classical Greece and Rome. These may be another budget-friendly option for incorporating architectural elements into your entrance.
Another idea is to call on architectural elements in your furniture choices. Large mahogany pieces with ornate columns, dental moulding or the like will add structure to a room, as would an oak table with reeded columns or carved cabriole legs. You can impart added stature to even a modest entrance way by selecting furnishings befitting a grander home. Rich timbers and well-polished surfaces can add to the illusion, especially when teamed with opulent carpets, curtains and accessories.
The entrance hall is a room quite used to drawing on "smoke and mirrors", so to speak. They are often made to look larger with the addition of a large mirror or more interesting with the use of painted features. Chandeliers or period light fittings are another easy way to capture an air of elegance from a bygone era. You can further build on the opulence and drama with topiary trees flanking the doorway, gilt accessories and small architectural finds used as trinkets.
Remember, creating a great entrance way is about putting your best foot forward, whether it started out as part of your home's structure or not.
History of the hall chair
During the late 19th century, the hall chair was an important piece of furniture. It was provided as a place for guests to wait to see the master or mistress of the home. As such, no expense was spared on this diminutive piece of furniture. It was generally made of the finest timbers, hand-carved and covered in opulent fabric or the best of leathers. Country decorators often use them today as mismatched dining chairs.