Bright Ideas for Beautiful Kitchens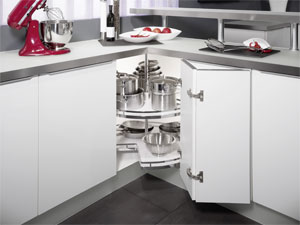 A kitchen is far more than just a room in which you cook your meals. The kitchen has manifested itself into the main area to entertain friends, guests and family alike. In homes the kitchen is the indicator of good taste, and therefore deserving of fittings that offer form, fashion and function. Tasteful and sophisticated design of kitchen fittings create the status symbol that is the residential kitchen.
In edition to ingeniously functional interiors and substantially more storage space, Kesseböhmer Arena Style from Häfele offers design, high quality finish and unparalleled user comfort. A thoughtful design incorporating functional and attractive fittings is investing in a higher quality of life.
ARENA Style creates space and order while ensuring pots, pans and food items are always easily accessible. Less time organising and looking for stored goods is more time spent entertaining or enjoying the company of your family.
Opening and closing internal drawers, pantries and corner units doesn't make a sound. The Anti-slip base prevents the contents from slipping or sliding and the integrated or optional SoftStopp cushioned closing avoids slamming of doors – creating silence and comfort in your kitchen.
Because designing smaller kitchens requires more originality and ingenuity in order to maximise space; rotating, swivel and pull-out drawers, pantries and corner solutions are an attractive solution for urban living.
The space saving, functional and beautiful fittings from Kesseböhmer allow your kitchen to surpass previously unattainable standards.
For more information or your copy of the 'Bright Ideas for Beautiful Kitchens' brochure, contact Häfele.