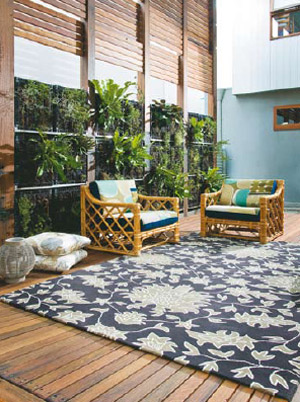 They were convinced there was a gap in the market for the manufacture of premium-quality, locally produced hand-made rugs, so Yosi Tal and his father Eli seized the opportunity and developed a quality rug manufacturing company. As managing director of Designer Rugs and with 25 years of industry experience under his belt, Yosi's wealth of knowledge and understanding of the constantly changing direction of the industry is a true asset. He also possesses a deep passion and natural instinct for colour, style and textures.
"I love all different design styles; they have their own relevance and place in today's interiors. It really does depend on the interior application and what the designer is trying to achieve," Yosi explains.
Rugs have the power to transform an insipid space into an uplifting and stylish living area or office. Staying on top of current trends is all part of being head honcho of one of Australia's leading rug manufacturers, and Yosi ensures he keeps up with current looks and styles in the rug industry. Bright colours, blues, oranges and greens are currently the leading hues, while a flashback to textures of the '70s is also very popular. However, ask Yosi which trends he likes to follow and he will tell you his team helps create, not chase, trends.
The edgy new Pavement collection focuses on observations from the pavement — what we see when we glance down, what's in front, behind and above. This latest range of incredible rugs was the result of inspired visions from senior designers, Christine McDonald and Lia Pielli.
"Pavement brings together rhythm and fabulous texture within its 14 designs which seemingly spill over the edges of the rugs. The colour palette is based on industrial hues —
a juxtaposition of the urban landscape in all its contrast," reflects Yosi.
Once again, Designer Rugs has released an array of creations that embody creative and artistic design, capturing an essence of classic and contemporary styles to adorn the home.
For more information, visit www.designerrugs.com.au.