This apartment went from jaded eighties to modern chic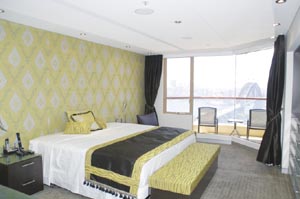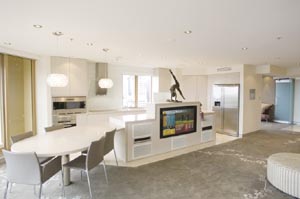 The logistics of renovating a home can be difficult at the best of times, with the removal of waste and delivery of new materials requiring careful management and planning. Renovating an '80s space 27 floors above The Rocks in Sydney's CBD is another challenge entirely.
The original apartment space was congested and had restricted access to the stunning views of Sydney Harbour. The apartment's owners were looking for a contemporary change and this provided an opportunity for a start-over approach to the refurbishment. Many of the walls and all existing furnishings and fixtures were removed and updated with contemporary alternatives. By removing walls which restricted sight lines, an open-plan layout was achieved.
The location is central and stunning, with views for kilometres over the harbour and out to North Sydney and the heads. It was important to have a functional living space while creating a contemporary interior which reflected the location. The apartment has two bedrooms and a study /guest bedroom, with spacious areas in each.
A balcony leads from the master bedroom and large ensuite, allowing a comfortable retreat. Fabric feature walls act as bedheads in all rooms, with fabric from Jim Thompson and also Warwick Fabrics. All bedrooms have been decorated in individual colour schemes, not only reflecting the personality of the client but the water and harbour life below. Downlights in these areas have also been utilised to create a romantic and soft look.
The main living area incorporates a very unique design and combines the kitchen, living and dining area all in one fluid space. The kitchen itself features a CaesarStone benchtop and streamlined cabinetry. All surfaces are immaculate, with clean, neutral colours, while stainless-steel appliances and accents add a glam touch. Floor coverings to the living area include a custom-made designer carpet in combination with Crema Marfil marble flooring.
Flowing off the kitchen bench is the dining table, which curves towards the harbour bridge below, giving all guests a fabulous view no matter where they are sitting. This feature also acts as an ingenious space-saving measure, creating an eating space that feels like it is separate, without actually sacrificing the room for a totally new dining area. The living space is also minimally furnished with enough room to enjoy.
Despite the logistic challenges, the completed project is a stunning example of what can be achieved by updating a living space to reflect its surrounds utilising contemporary design elements and fixtures. Enormous windows and endless views of one of the most famous harbours in the world is certainly the focal point in the apartment; however, it is the open-plan design and carefully placed interior elements which makes it easy to let the view fall away and simply enjoy the lush surrounds.