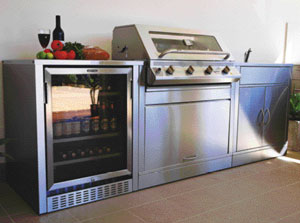 Australian-made barbecues and modular outdoor kitchens for the Australian lifestyle
There is nothing more Australian than a weekend barbie and if you buy your new barbecue from Lifestyle BBQs you'll know you're getting a barbecue designed and manufactured right here in Australia to suit the way Australians like to entertain.
After more than 30 years in the barbecue business, Lifestyle BBQs knows that it's not just what a barbecue looks like on the showroom floor that matters, it's how it performs in your backyard. Will it get hot enough? Will it cook evenly? These are the most common questions Lifestyle staff hear from customers who have bought cheap imported barbecues in the past.
With an Australian-made Lifestyle barbecue you'll get all the heat control and cooking performance you need. This means you'll be able to cook something as delicate as a fried egg on low heat on the stainless-steel hotplate for a leisurely family breakfast in the morning and then crank it up to high at night to cook marinated prawns in a minute or two. If it's a thick cut of Porterhouse steak on the menu, turn the heat down low under the grill and close the roasting hood for a restaurant-quality result.
Earlier this year Lifestyle launched their new Modular Outdoor Kitchen range, which is aimed at the avid entertainer. Of sleek, contemporary design and made from commercial-grade stainless steel, a Lifestyle Outdoor Kitchen is a beautiful addition to any home. More importantly, it is durable, functional and good value for money. You even get a 25-year warranty.
There are plenty of options to choose from. All you need to do is measure your available area, decide what features you would like to include in your Outdoor Kitchen and Lifestyle BBQs will do the rest.
Some of the features available include three-, four- or five-burner gas or charcoal barbecues, double or single wok burners, small or large welded-in sinks, a Vintec underbench refrigerator and a dishwasher cabinet. And your Outdoor Kitchen can be installed on a stainless-steel plinth or adjustable stainless-steel legs.
If you'd like to find out more, you can pop into the Lifestyle BBQs showroom in the Sydney suburb of Padstow (open Monday to Friday, 9am to 5pm; Saturday, 9am to 2.30pm) or you can give Lifestyle BBQs a call and talk to the experts about your barbecue and outdoor kitchen needs. All staff members have extensive industry experience, so you can be assured they know what they're talking about and that they'll give you the best possible advice. For your convenience, Lifestyle BBQs delivers throughout Australia.
For more information
Lifestyle BBQs 113A Fairford Road, Padstow NSW 2211 Phone (02) 9773 6245 Website www.lifestylebbqs.com.au Photography by Peter Brennan