Luxury Home Design and Completehome.com.au are pleased to announce their sponsorship of the Australian Architecture Association (AAA) a not-for-profit organisation that supports and promotes Australian and World architecture to the public through its programme of tours, talks, seminars and events.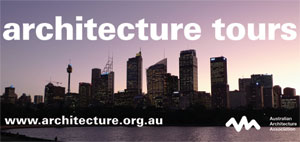 Luxury Home Design specifically sponsors the Residential Tours, which include walking, bus, self-drive and harbour cruise events throughout the year. All tours are led by a dedicated team of volunteer tour leaders who are responsible for conducting a large part of the tour program; they come from all walks of life and all share a passion for the art of architecture.
They are held all throughout the year. Please visit www.architecture.org.au to look up the individual tours.