This architecturally designed dwelling has everyone begging the question: what is it?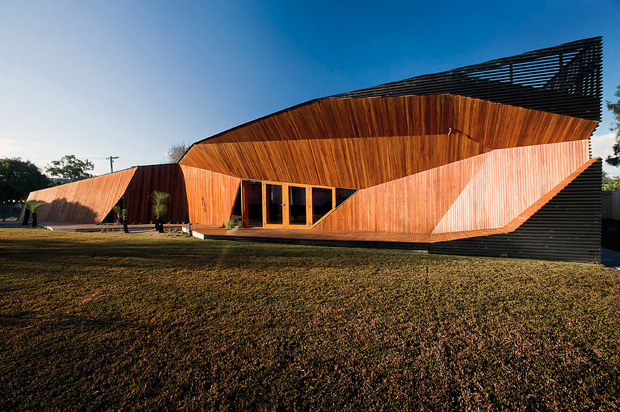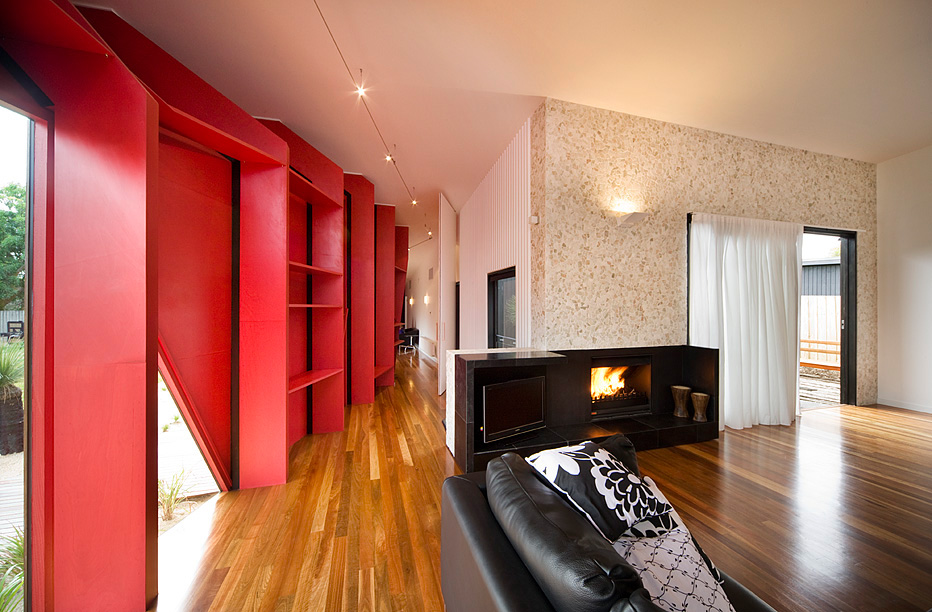 Therein lies the name of the home and the answer; The Letterbox House by McBride Charles Ryan is a masterful work of art exploring the use of timber. Located in Blairgowrie, a town between Melbourne's Port Phillip Bay and the ocean, the standout attraction is its timber wall and deck.
The home's exterior lends itself to many interpretations — looking like an upturned boat, a breaking wave or a cliff — although neither of these is right or wrong. The real answer is what you make of it yourself. For the architects, they wanted to maintain the feeling of space. The company set the task of designing a structure which had the smallest façade on the peninsula and was hidden behind the letterbox, hence its name. This holiday home sits in a conventional beachside suburban streetscape. The house's street façade is essentially a copper-fronted letterbox: the copper 7 is the home's façade. Through the use of timber, this home took shape. A love for the original trees on the property that arborists said 'had to go' informed the Blairgowrie house. Every part of the trees were used, with branches becoming door handles and trunks becoming sculptural seats.
The structure of the verandah is expressed internally as bookshelves. The timber floor, in a warm spotted gum, is similar to the timber deck, imitating its variations and personality. An external "cranking" wall lines one side of the home, playing a very important structural role. From the inside, it appears as a series of red-stained timber box beams, creating architectural effect, while also providing a practical storage solution. With a high-raking ceiling, this home celebrates space. The five-bedroom holiday house revolves around a spacious open-plan living room. Continue along the timber box beams to the two front bedrooms. The two spaces can be separated here through the use of a large pivot door. A stairway from the main living area leads to the master bedroom with its own private deck, the only first-floor space. The home's interior was just as important with its design elements as the exterior. A courtyard on the north side extends from the living area, catching light throughout the day, while the large side deck catches the afternoon sun and doubles as an entryway and a verandah area.
With an emphasis on incorporating natural elements, this home has embraced dimensional design with modern architecture. McBride Charles Ryan was a national winner at the 2009 Australian Timber Design Awards for The Letterbox House. The house also won the top residential award, the Harold Desbrowe Annear Award, by the AIA (Australian Institute of Architects).
Mcbride Charles Ryan, Architecture + Interior Design,
4/21 Wynnstay Rd, Prahran VIC 3181.
03 9510 1006
mail@mcbridecharlesryan.com.au