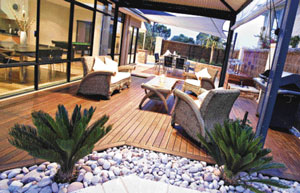 Designed for a fun-loving retired couple, this relaxed outdoor retreat has it all
With many years of fancy-free retirement ahead of them and a beautiful new home boasting a world-class golf course on its back doorstep, the owners of this stylish Western Australian property decided it was time to treat themselves to some of the better things in life. First thing on the agenda was to take the backyard, carve it into two outdoor-room-style living zones and create a resort-type sanctuary tailor-made to meet their precise lifestyle needs.
South Sea Landscapes worked closely with the owners to design and construct a low-maintenance retreat that would accommodate the relaxed lifestyle for which the southwest region of Western Australia is renowned. While ease of maintenance was a priority, the revamped rear garden also needed to complement the style of the house and be easy to lock and leave when the travel bug bit.
The existing backyard consisted of a high-maintenance grassed area, which was immediately removed. In its place a floating hardwood deck — seeming to sit atop a sea of poured limestone concrete — was installed, creating the perfect outdoor dining area. Over the dining area there are shade sails, which keep diners cool and, along with the brushwood fencing, help to screen the neighbouring properties. These shade sails act as the "roof" for this outdoor room and give the area an intriguing sculptural quality.
The focal point of the space is the eye-catching water feature. The water feature starts with the top timber-clad level, which houses three frosted glass bowls perched on stainless-steel pipes. The water then flows through a stainless-steel spout, eventually finding its way into a ground-level, channel-style reservoir.
Local Donnybrook natural sandstone feature work complements the unique three-tiered water feature and timber daybed, which are equally integral components of the dining area design. A timber platform traverses the ground-level reservoir, providing access from the shade-sail-covered dining area to the covered outdoor room attached to the house.
This outdoor room is set up as a lounge area and provides somewhere out of the sun to relax. The timber decking gives the area a feeling of warmth and references the feature flooring panel beneath the dining table.
Throughout, the emphasis is on natural materials. Local river gravel has been used extensively (for example, in some of the garden beds as a form of decorative mulch and in the water feature to add textural interest), with LED garden and pond lighting giving the outdoor areas a warm glow at night.
In keeping with the owners' low-maintenance goal, all the planting is hardy and waterwise, including the mature dragon's blood tree (Dracaena draco) in the corner of the dining area, which was salvaged from a demolition site and craned into position.
Project details
Landscape design and construction by South Sea Landscapes PO Box 1017, Dunsborough WA 6281 Mobile 0408 851 449 Fax (08) 9756 7444
Email admin@southsealandscapes.com.au Website www.southsealandscapes.com.au Photography by James Stati