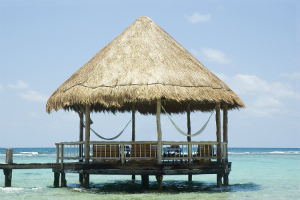 If you're seeking the ultimate backyard retreat, why not take your design cues from your favourite holiday resort?
Story: Diane Norris
We all cherish our leisure and holiday time, relishing the opportunity to escape to our favourite resort destination where we can unwind from the relentless routine of daily life. For some the word "resort" conjures images of a luxurious well-appointed five-star hotel, while others visualise a warm tropical oasis filled with lush gardens, the sounds of water and the chattering of exotic birds. For yet others it's the peaceful sanctuary of a secluded eco-lodge hidden deep in a dense rainforest or buried in a forgotten mountain range.
Whatever your personal preferences may be, resort-style designs and landscaping are gaining enormous momentum, transforming backyard spaces into imaginative and personalised sanctums. While the design theme may differ, to offer the best in resort-style living, any garden plan should incorporate three basic principles: it should be functional, comfortable and relaxing. These principles can be applied to the smallest courtyard or the largest rural garden, allowing you to create a private resort-style retreat that provides you with a year-round escape and a haven dedicated to outdoor living.
Function and form
Before planning begins you have some important questions to ask yourself. What will be the purpose of your outdoor living area? Do you like entertaining? Do you prefer being with your closest family or do you favour a small secluded space for yourself? Once you know what you want from your outdoor area you can then devise what inclusions you will need.
If entertaining is a priority, modern outdoor kitchen spaces, just like the ones found in a resort's alfresco area, can be replicated. Backyard kitchens have become increasingly streamlined and sophisticated. You can have a practical pavilion or covered area under which is housed the "hub" of entertaining. This might include a cooking unit, fridge, sink (complete with hot and cold running water), perhaps even a dishwasher or microwave.
Large utility benches can double as a preparation or serving space and can be as simple as a large timber slab or more modern, like a suspended stainless-steel "floating bench". If your tastes run more along the eco-lodge or relaxed style, a wood-fired pizza oven would be fitting as would more casual, rustic timber tables and chairs.
Of course, if you entertain year-round, outdoor heating must be considered. Open fireplaces or slow combustion stoves can become an architectural feature or you can simply have the café favourite, a "roll-out" hooded gas heater. Outside furniture is also vital and there are tables, chairs, footstools, lounges and poolside recliners that are made from sturdy weatherproof synthetic fibres but hold the exact appearance of the finest rattan. Top these with colourful futons or cushions and the resort appearance is nearer.
One clever thing you notice about resorts is that while everything is supremely efficient and "at hand" the look is always stylish — cultivated yet totally uncluttered. You can achieve this by hiding things. A large cushion-topped bench could actually be a box filled with toys, utensils or equipment. The pool filter box can be hidden with panelled timber or lattice, just like deck-side at your favourite retreat.
Another important component in creating any outdoor living space is the aspect of your yard. You will need to know the path of the sun throughout the year so you can position shade structures or plant trees correctly. You need to know where prevailing winds come from and if you have a close neighbour or busy road, formulate a plan to camouflage or screen these distractions from view.
Fixing a theme
You may like to incorporate a theme into the landscape, giving it a distinctive sense of style and place. For some, this means evoking the ambience of another culture. Balinese-styled gardens have been popular for many years while others have been drawn towards the intrinsic beauty of the Japanese style. Both styles are easy to replicate by using artefacts collected from trips to these favoured destinations or by sourcing bits and pieces from the specialised retail outlets that abound. Today you can buy an authentic Asian gazebo, carved statue or daybed with ease, choosing between traditional or more modern designs.
Of course, you don't have to travel to an overseas destination to use it as a source of inspiration. You can adapt landscaping and decorating concepts from travel brochures, magazines or books. Or you can employ a landscape designer to create a look that is authentic yet distinctly your own.
You can go "all the way" and use your chosen theme to entirely transform your whole backyard or you can take a more subtle approach with just one or two special plantings or the placement of a couple of pots or wall plaques you have collected. Of course, the theme you adopt for your outdoor living area will work best if it draws on the interior décor of your home. This is especially important as so many modern homes are designed to promote indoor-outdoor entertaining and foster a greater connection with a home's outdoor living areas.
Selecting plants
Selecting the right plants is as crucial as the layout of garden beds, planter boxes, lawns and feature plantings. Most formal-styled hotels or resorts favour mass plantings — hedges, rows of trees or even fragrant shrubs of the one species — to create a uniform, balanced look, making it simple yet sophisticated and welcoming. You can sculpture edges, fill the sides of paths and create shapes and definition in your garden with the right grasses, flowering plants, shrubs and trees.
If your theme is tropical or lush you may need to check with your local nurseryman to be advised as to what species will grow best in your area. It's easy in moderately temperate places and you can plant the colourful tropical-type species such as bird of paradise (Strelitzia regina), canna lilies and vibrant bougainvilleas for screening and the fabulous frog-attracting glossy bromeliads. Plants such as buddleias attract butterflies, nature's finishing touch to the tropical garden. In cooler areas you can try tree ferns or lush shrubs like the lilly pilly (Syzygium sp.) or lavish indigenous species to give a tropical-type feel.
What to include
When we think of a resort we nearly always visualise water — the beach, pool, spa, babbling water feature or meandering creek — which evokes our senses of sight, sound and smell. A pool is nearly always the central feature in a resort-style outdoor space and, if already in-ground, it can be enhanced with a shade sail, cabana, hut or gazebo.
If you are thinking about a new pool, there are many innovative and varied shapes and styles available. Some include a waterfall, spa, swim-up bar or the very popular "vanishing edge". If space is limited, mesmerising water movement can come from the smallest water ball to a more substantial fountain, small pond or water corridor, all adding animation to your yard.
You will notice paved areas in the grounds of holiday resorts and hotels are practical yet varied. From porphyry stone and sandstone flagging to large formal blocks, you can pick colours and textures to match and embellish your design. Again, don't be afraid to look through decorator magazines or take note when you see pathways that appeal.
Another most important outdoor inclusion is lighting, so when on the prowl for ideas observe what you like best. This can be subtle in-wall or ground spots, decorative light poles or larger, brighter floods but whatever you choose it is imperative to have good illumination that adds ambience and contributes to the safe functioning of your outdoor area.
A more personalised retreat-type feature could be a private yoga or relaxation pavilion. A little hut with seagrass matting, a personal piece of exercise apparatus and other fine touches can provide a secluded nook, just for you, to mediate, exercise in privacy or simply unwind.
Dream to reality
There are so many ideas and all you have to do is look around and formulate a design that includes what you like best. Of course, the bigger your budget the more lavish the end result but resort-style living can be achieved even when don't have money to burn. No matter how much you have to spend, you can create your own slice of paradise, an harmonious retreat where you can seek respite from the hustle and bustle of daily life and enjoy year-round serenity.
Start by gathering ideas from the countless lifestyle magazines and books that abound then add your own touches. By drawing on your imagination and incorporating elements of your personality into your plans, over time you can establish a comfortable, relaxing, personal resort in your very own backyard — a space that you can enjoy daily until you next travel to your favourite holiday destination.