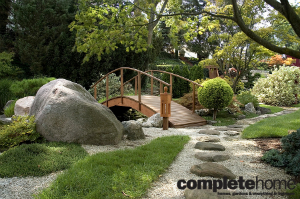 How to turn your backyard into a tropical Balinese retreat
It's summer and if you're not sitting under your Balinese thatched-roof gazebo you're 10-degrees hotter than you need to be. Long-lasting and waterproof, Bali House & Garden gazebos do more than keep the heat at bay. They look fabulous and can be used as the centrepiece of your new tropical-style garden retreat.
Gazebos are made to order so you can have any size you like. They also come in a DIY kit form which you can assemble yourself or Bali House & Garden can arrange installation.
Alang Alang thatching can also be purchased by the strip and comes in 2.8m lengths. An extremely versatile product, you can use it to cover an ugly pool filter or you can build your own gazebo and just add the thatching.
With a thatched gazebo you can transform your backyard into your own tropical haven. Just imagine leaving behind the hustle and bustle of your busy day as soon as you open your back door — it will change your outlook on life and every day will feel like a holiday.
Call into the Bali House & Garden showroom, located in the outer-Sydney suburb of Ingleburn, and look around the premises at your leisure. Once you've seen the beautifully crafted products and unique designs, you'll be glad you made the journey.
Bali House & Garden is open seven days a week and is very easy to find — it's just a one-minute drive once you turn onto the Ingleburn exit off the M5. The staff at Bali House & Garden invite you to pay them a visit and enjoy the best Bali has to offer — without leaving the country.
Bali House & Garden is also now franchising in all states (see contact details below).
BALI HOUSE & GARDEN
Cnr Williamson and Stennet Roads
Ingleburn NSW 2565 
Mobile: 0418 247 512 (Coleen)
Mobile: 0416 187 455 (Robyn)
Email: sales@balihousegarden.com.au
Website: www.balihousegarden.com.au 
Franchising enquiries:
Mobile: 0418 224 967 (John)