Eco-friendly bamboo decking that looks great and reduces your carbon footprint.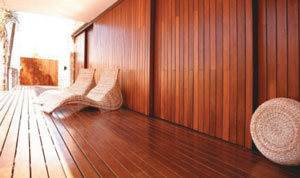 House of Bamboo has been an Australian pioneer of eco-friendly and sustainable products since 1975. A specialist in all kinds of bamboo products for outdoors and indoors, the company now provides the latest generation of strand-woven bamboo decking, which is perfect for pool surrounds and outdoor rooms. These solid-mass boards, available in carbonised shades, are all precision milled, pre-finished and ready to install.
While matching hardwood in natural beauty, the strand-woven carbonised bamboo decking provides greater strength, density and hardness than hardwood timbers. It is also treated with insect retardants and impregnated with natural decking oil. Bamboo decking is low maintenance; a simple application of decking oil, when appropriate, will retain its lustre.
As is well known, bamboo decking is very environmentally friendly. The species used for decking is Moso bamboo. It is self-regenerating and the fastest-growing bamboo species on earth, growing to premium-quality timber in seven years compared to hardwood timbers, which take approximately 25 years to reach the same maturity. It also absorbs and stores carbon dioxide extremely efficiently. The decking provides a long-lasting resistance to staining, UV fading, termites and surface indentation.
Moso bamboo is also the hardiest of all bamboo species and one of the strongest building materials available with a higher density than mild steel. Further, it's a crucial element in the balance of oxygen and carbon dioxide in the atmosphere. A grove of bamboo releases 35 per cent more oxygen than an equivalent stand of trees. Because of this, selecting bamboo decking over hardwood timber species is a great way to reduce your carbon footprint and help fight global warming. House of Bamboo's decking is sourced from properly managed farms with certified manufacturing and production processes, ensuring the highest quality and environmental responsibility.
House of Bamboo also specialises in natural eco cladding, ideal for pool surrounds. These can hide unsightly or non-matching existing perimeter fences, pool filters or utility areas, as well as create filtered light shading solutions all in natural textures appropriate for pool settings. Also available is a contemporary range of outdoor deck furniture.
For more information visit www.houseofbamboo.com.au