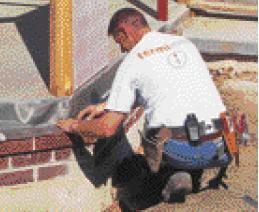 The Termimesh System is setting new quality standards in termite barriers
The Termimesh System has long been recognised for establishing new benchmarks in effective termite barriers through superior materials, installation techniques and onsite service.
As an endorsement of its commitment to quality and continual improvement, TMA (Termimesh Australia) Corporation, the distributor and head office for the Termimesh System, has recently achieved certification to AS/NZS ISO 9001-2008. The certification through Global Mark covers the management and distribution of the Termimesh System. In addition, certification was also achieved for the company's rapidly expanding Pest Management network.
The Termimesh System achieved national accreditation from the Australian Building Codes Board several years ago and recently underwent a full audit by Global Mark in all aspects of the product and installation specifications. As a result of this comprehensive audit, the Termimesh System has been re-accredited under the new CodeMark banishtermites The Termimesh System is setting new quality standards in termite barriers Certification Scheme, demonstrating ongoing conformity with the Building Code of Australia.
Both these accreditations further enhance the company's and the product's reputation for providing the building industry and home owners with consistently high quality and effective termite barriers. Termimesh has been a trusted name in termite
barriers for new homes for more than 18 years and is used extensively by leading builders Australia-wide, with more than 280,000 installations completed across the nation.
Contact
TMA Corporation
Web www.termimesh.com