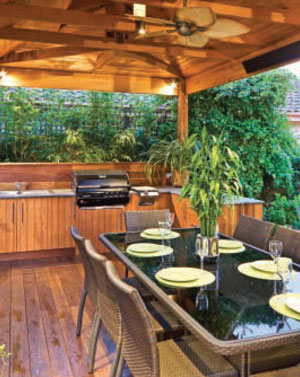 Integrate a barbecue into your outdoor room and enjoy the convenience of alfresco cooking
Words: Natalie Raad
Including a barbecue area in the design of your outdoor room is a simple way of turning the space into an entertainer's delight. With summer now here, firing up the barbecue is an ideal way to spend those sultry summer days and nights, socialising with friends and family while you enjoy a tasty barbecue meal.
There's a plethora of barbecues on the market to suit every possible taste and budget. From freestanding modular designs to in-built, fully equipped setups, you'll be sure to find the right barbecue for your outdoor room. And with outdoor cooking becoming such a prominent part of the Australian lifestyle, gone are the days when a barbecue was "just" a barbecue — today's designs feature everything you could possibly dream of to make your alfresco cooking experience an affair to remember.
Traditionally, firing up the barbecue meant cooking sausages in a cloud of smoke emanating from a brick-and-cement-block edifice. Today, however, barbecuing has become a totally different experience. Modern barbecues are usually gas-fired, stylish and come with multiple high-powered functions, giving new meaning to the humble Australian barbecue.
We're also cooking a greater variety of dishes on barbecues these days. It's no longer just steaks and sausages, but rather the modern barbecue feast will now include roasts and fish. There's also an increasing interest in alternative ways of cooking within the same barbecue. For example, many barbecues now feature a wok or side-burner where you can steam, stir-fry, sauté and simmer, you can get smokers and flavoured wood chips and BeefEater has a pizza oven attachment that fits on to its barbecues.
Because of their more prominent role in our outdoor entertaining, traditional barbecues have been given a makeover, with many now featuring all the things that the busy outdoor cook now demands, such as non-stick cooking surfaces storage space, condiment holders and preparation areas. Then there are the outdoor kitchen-style barbecues, often modular in arrangement, which offer sinks, extra bench space and even built-in bar fridges.
And with today's outdoor rooms being designed with style in mind, our barbecues must also look the part with many people now taking into consideration the appearance of a barbecue in addition to its functions and capabilities. While a stainless-steel finish is always a classic, suiting just about any setting, you can find barbecues with powder-coated finishes in black, red, blue, white and more. Some of the outdoor kitchen-style barbecues also offer a choice of materials for the benchtops.
For some, integrating a barbecue into an outdoor room means striving to recreate the convenience of the indoor cooking experience outside. This might mean a custom-designed outdoor kitchen set within a gazebo, pergola or cabana that features a built-in barbecue with a rangehood mounted above to whisk away cooking smells. That barbecue is often likely to include everything from a roasting hood to a teppanyaki grill. Others will be simply seeking a freestanding or moveable pedestal or trolley barbecue that can fit discreetly on a deck or balcony.
When integrating a barbecue area into your outdoor room, there are a few things that need to be taken into consideration. The first thing is space. The size of your outdoor room will influence the amount of space you can dedicate to creating a cooking area and the size and style of barbecue you can have. A small balcony setting will not be able to accommodate a lavish, fully equipped outdoor kitchen-style barbecue unit. Rather, a portable, trolley-style barbecue is the better option. Extremely popular, these mobile barbecues are gas-driven and come with a simple hotplate and grill for cooking, and a warming tray for waiting food. Some also come with drop-down shelves to save on space, while fancier models feature hoods and decorative fascias. Best of all, these types of barbecues can be covered up when not in use and moved out of sight.
If space is not an issue in your outdoor room, then you are spoilt for choice when it comes to integrating a barbecue. If flexibility is what you're after, there are larger portable barbecues available. These designs come with all the modern conveniences such as a combination of wok burners, rotisseries or grillers and are made of hardy stainless steel, which will seamlessly fit in with most outdoor settings and integrate nicely with contemporary home decor. Being portable means these barbecues can be moved as and where needed.
If you're after a more lavish setup, the outdoor kitchen is for you. Featuring everything from a barbecue, fridge, cabinetry, benchtop and sink to storage facilities and prep areas, the outdoor kitchen barbecue is the ultimate focal point for an outdoor room.
A space-savvy alternative to the outdoor kitchen is the modular barbecue. These can be tailored to include exactly what you want and need. From drawers and cabinets to sinks and taps, these models are well suited to the keen chef with limited room outdoors. Of course, you can go to the other extreme if you really have a small outdoor space to cook in, with a tabletop barbecue or grill. These will often be kettle-style barbecues and, while they're not very big, they're ideal for small gatherings in small spaces.
The second thing to consider when integrating an alfresco cooking area in your outdoor room is the location of the barbecue. If you opt for a simple barbecue, it's a good idea to position it as close as possible to the indoor kitchen. That way, you'll have easy access to everything you need inside.
If you've gone all-out and integrated a fully equipped barbecue area into your outdoor room, you can place it pretty much anywhere. Being self-efficient means your barbecue area will have all the extras you need so you don't have to keep going back and forth to the inside kitchen.
Another consideration when it comes to the placement of your barbecue area is the direction of the smoke. Ideally, you don't want smoke blowing inside your home, nor do you want guests to feel overwhelmed by smoke when they're trying to enjoy an alfresco meal. Consider the appropriate venting so that your alfresco cooking and dining is an enjoyable experience.
To complete the alfresco experience, no barbecue setup would be complete without a designated dining area. Be sure to include a dining area in your outdoor room so guests can enjoy the fruits of your labour while they revel being out in the fresh air. By positioning the dining area near the cooking area, both the chef and the guests will feel part of the alfresco cooking experience — and it makes serving much easier.
To ensure your barbecue area can be used in all types of weather, be sure to include an appropriate shade structure. Some form of protection from the elements is required so the chef can cook and the guests can dine in comfort all year round.
Integrating a barbecue into your outdoor room is a simple way to turn the space into an entertainer's delight. Modular or mobile, no outdoor room is complete without a barbecue. And with myriad designs to choose from, finding the right setup for your space couldn't be easier.