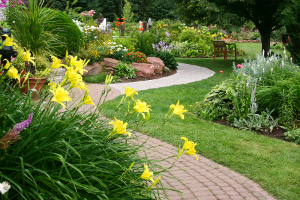 This inner-Sydney courtyard functions as an extension of the interior dining area
Story: Karen Booth
Photos: Bruce Usher
Forging a seamless link between interior and exterior living areas, timber-framed bifold doors open wide to reveal a modern, semi-formal courtyard designed for year-round entertaining.
To ease the transition from the internal living room to the outdoor dining area, timber decking has been employed to complement the wooden flooring inside the home. This works in complete harmony with the white Indonesian sandstone paving used elsewhere in the courtyard.
The alfresco and internal entertaining areas are so close to each other that up to 20 seated guests can be easily accommodated — more if standing. Although relatively small, the courtyard is supremely comfortable and conducive to relaxed conversation, whether during the balmy heat of a summer's day or bathed in the soft glow of night lighting.
Protection from the sun or a light summer drizzle is provided by an awning-like umbrella. Although offering complete coverage of the garden, the vast, white canopy doesn't  dominate the space. And on those days when you want nothing between you and the sky, it can be easily closed. Introducing level changes can make a small space seem bigger, which is why the dining area is elevated rather than being on the same level as the internal flooring. It's also why the custom-designed sandstone-clad water feature, tucked into the far left corner of the courtyard, is tiered.
Maintaining sight lines from within the house is a vital ingredient in a successful indoor-outdoor living space and the water feature is perfectly placed so it can be enjoyed whether the homeowners are inside or out.
A trio of rusty-red-coloured potted plants softens the deck area and prevents the boundary wall behind from appearing too harsh. The facing wall on the other side of the courtyard boasts a flourishing display of star jasmine (Trachelospermum jasminoides), which gives the space a welcome burst of greenery. Elsewhere, English box (Buxus sempervirens) and mondo grass (Ophiopogon japonicus) have been used to define areas and soften the edges of the paving and decking. In the centre of the courtyard sits a compact tree, partially obscuring the base of the umbrella.
Conscious of the fact that clutter can be the enemy of a small space; the decorative touches are discreet and include a stone sculpture tucked up against the water feature and a Buddha wall plaque on the rear wall. This is a neat low-maintenance garden where every available corner has been put to good use, from the inbuilt bench seating at one end of the deck area to the integrated barbecue at the other. Built by Ami-Co Landscapes, the courtyard design turned out to be such a success because it was a collaborative effort between the landscape designer, home designer and homeowners.