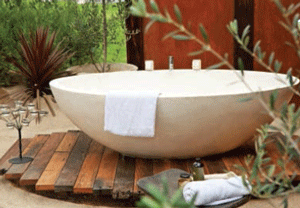 Bathing under the stars — it's no longer a treat reserved for tropical island holidays
Words: Catherine Stewart
Opulent, sensual and exotic. Bathing outdoors is the new must-do at the best holiday resorts, but you can also experience it in your own home. Imagine slipping into a warm bath and relaxing at the end of a long day, surrounded by fresh air and foliage. Or playing with the kids under a cooling rain-style shower on a hot, dry day. Even an indoor bathroom can be given an outdoor-style makeover.
Start the planning process
The ideal place to start is outside the same wall as your indoor bathroom so you'll have easy access to mains water and sewer. You must use a licensed plumber to do any work and check whether you need local government planning permission and approval from your local water authority. Greywater can be sent through subsurface irrigation to water your garden, although you will need a divert-to-sewer if the ground is already saturated from heavy rain. Many outdoor bathing aficionados just use a loofah instead of soap so that greywater isn't contaminated by fats and chemicals.
Alternatively, perhaps you can open up your existing bathroom to a private courtyard. It can be as small as only a metre or so deep — just enough to have some clear sky above and room for some lush green plants. You can close off the space to cold winds, or at night, with large sliding doors or louvre windows, and install retractable insect screens for plenty of view but no annoying mosquitoes. Even just replacing the glass in a window with clear louvres in the upper half, or a deeper garden window filled with shelves of potted plants can make you feel like you've moved partly outdoors.
Some creative design ideas
Some sense of enclosure will make the most comfortable outdoor space. A pavilion or pergola canopy with open sides lets the garden come up close or you can have a semi-open room with motorised opening roof and walls or a large gas-lift window. Alternatively, build a bathroom that's open to the sky but enclosed with solid courtyard walls, or with sectioned walls that can be opened further, with sliding screens or louvres closed for privacy when you need it or pushed back to enjoy a view. Slatted or bamboo screens let through breezes but keep out prying eyes. Semi-translucent walls made from etched or patterned glass add extra decoration or you can use curtains and fabric panels in pretty outdoor fabrics.
As an outdoor bathroom is a larger space than one indoors, the bathroom fittings look best when they are oversized. Free-standing tubs instantly give a resort-style look or you could opt for a drop-in bath fitted into a timber deck. A deep bath is the best way to experience outdoor bathing so that most of you is under water. Japanese-style baths in acrylic, polyester or timber from The Japanese Bath Company are good for extra depth up to 570mm and are smaller in surface area, needing less water to fill and staying hotter longer.
The best materials to use
Flooring needs to be non-slip, stay cool in hot sun and be easy clean, but most importantly feel pleasant under bare feet. Avoid fine gravels that will stick to wet feet, or large pebbles as they're tricky to walk on and quickly fill with dirt. Pavers that are suitable for use around pools will fit the bill, or outdoor decking, as long as it's well maintained so it doesn't become splintery.
Fittings need to be more robust than in your inside bathroom. Dirt and dust are a particular problem, as that's what promotes mildew and mould more than dampness, but more intensive UV exposure can also damage surfaces. Check with the manufacturer of your bathroom fittings to see whether they are suitable for outdoor use, however you don't want to make a bathroom that has the same look as an indoor one. Products that have a more natural feel (rather than stark white or shiny gold) will give you the right look.
A large, free-standing bath makes a great centrepiece in an outdoor bathroom. Make sure your substrate can carry the weight, as some filled stone tubs will be well over a tonne. Beautifully crafted timber tubs from True North Furniture of laminated teak or jarrah can be lacquered or left to weather to a soft silver. StantonMoor has natural stone baths in many shapes carved from marble, granite, limestone or sandstone, and recommends a darker-coloured stone with marbling or striping for outdoor use. The smooth, simple lines of reconstituted stone and resin tubs from Apaiser are perfect for a resort-style bathroom, in cream through to basalt grey. For a more old-world look, combine claw-footed baths in acrylic from Australian Construction Supplies or vitreous enamelled cast-iron from Castiron Baths with brass or rubbed bronze finished tapware and outdoor wicker furniture.
Don't forget the accessories
You'll need a waterproof cabinet in weather-resistant exterior laminate to store towels and bathroom bits and pieces, maybe a timber or wicker stool for your robe and make sure the mirror is properly sealed for outdoor use or it will quickly spot, like the iron-framed square contemporary mirror from Rivas Design. Install small LED lights at floor level and through a nearby tree or add some scented candles for a romantic night bath.
Tapware needs to be good quality, so avoid any with plastic tap bodies. Shirley Marshall of the English Tapware Company recommends chrome-plated brass in undercover and inland locations, but for any marine or more exposed environments suggests bare brass, which develops a lovely aged patina. Some manufacturers also recommend 304 stainless steel or 316 marine grade.
Planting is an essential part of an outdoor bathroom experience. Avoid plants with spines or sharp-tipped leaves. Extra-large, glossy, green leaves always look wonderful with either polished or textured surfaces, and the gentle arch of bamboo canes will add an exotic touch.