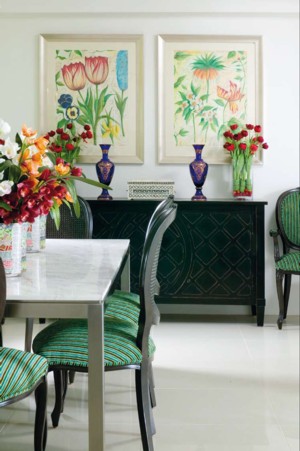 When designing and decorating the interior for this couple's home and farmhouse, John Croft of John Croft Design knew these clients quite well. The couple wanted each of their properties to have a different feel and called on the expert help of John Croft to see that vision through with their beachside apartment. The apartment had already been the subject of a major refurbishment, with the walls, flooring and kitchen all new.
While the clients had a specific plan, John Croft inspired a new design that incorporated a simple, contemporary yet classic style for the apartment. Detailed in the design brief, the clients wanted a formal feel for their twobedroom apartment, but John insisted that with the low ceilings, the property would suit a more modern look. The challenge was to seamlessly incorporate a classic feel into the spaces.
Through the use of furnishings such as the dining chairs and large black/white cabinetry, this look was achieved. John also insisted on painting the furniture, not staining it, to further highlight the classic feel. "Large pieces and classic shapes were treated in a contemporary way," says John. Over-scaled patterns create drama, so the wallpaper in the open-plan living area was the perfect addition for this apartment, which blends classical and modern.
The mirrors are also feature pieces that act as stunning contrasts to this space that explodes with colour and pattern. In the living area, the contemporary table, fitted with stainless-steel legs, is softened by the eclectic use of colour and the bespoke rug with its interesting pattern.For the master bedroom, the clients wanted the look to be simple; the black and white colour scheme reflects this well. A hint of colour was introduced to this space with the three bright, patterned scatter cushions. This room, with its contemporary feel, has a relaxed mood. For the owners, it was important to treat this space separately from the rest of the apartment with the furnishings and use of colour very minimal and sophisticated. In the second bedroom though, colour was embraced. The bedhead, with its contrasting colours of aqua, green and brown, stretches across the entire wall. This simple, modern interior is both comfortable and representative of its beachside location.
John Croft, together with senior interior designer Renee Burgess, who assisted on this project, has combined colour and patterns to embrace a contemporary look, and introduced some classic-inspired furniture to create an interesting interior the owners love.