Maximising space in this home called for a creative design.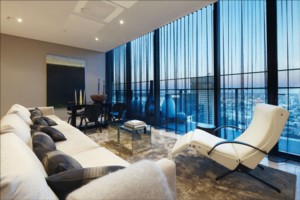 The rundown state of this original house in Melbourne's beachside hub of Elwood led to the home being demolished then subdivided, paving the way for two new dwellings to be built side by side.
For one of the properties, the owners wanted to create a modern home with high-quality finishes to resonate with the St Kilda beach environment. The project, designed by Bojan Simic and built by Silk Homes, consisted of an open-plan living area, three bedrooms and two bathrooms. The design needed to be creative because there was such a tight space to work with. The home's open-plan design and high ceilings create a feeling of space, adding depth and dimension to each room. There's a sense of continuity about this house. As soon as you enter, the interesting design allows you to see right through to the outdoor merbau deck. For the kitchen, CaesarStone benchtops and printed glass splashback were chosen.
Miele appliances are seamlessly integrated into the clever design. An island bench with sink doubles as extra storage space for the kitchen and a great place for the family to sit and enjoy meals together. Past the kitchen, the dining table and living room enjoy an uninterrupted view of the entertaining area outside and the modern Australian drought-tolerant landscaping. Tasmanian oak flooring was chosen for the open-plan kitchen, dining and living space, as well as the staircase leading to the second floor. The staircase with vertical stainless wires as balustrades is a strong yet modern feature in this home. The oversized bedroom follows a modern and sophisticated design, continuing on from the rest of the house. A neutral-coloured palette was selected for both the interior and exterior, further highlighting the home's focus on continuity. Black and white bedding accessories and carpet were carefully selected, adding a soft element to the room. What's special about this space is the deck that extends from the bedroom, leading outside. It's the perfect space to relax and enjoy the view. Italian porcelain tiles were used in the bathrooms.
The all-white bathroom is made with Rogerseller's sanitary fixtures and bathroom fittings. While the home's exterior can be described as very dimensional in its structure, the many elements and layers give this home a modern quality. Different textures and materials such as brick, timber and glass were used to create the front façade of the home, adding an interesting effect to its exterior. "The project had to reflect the open-feel atmosphere of the beach. While it needed to allow for this beach lifestyle, it still had to maintain privacy and modern excellence," says Charlie Schembri of Silk Homes. Despite its size, this home allows for a complete family lifestyle, beachside.