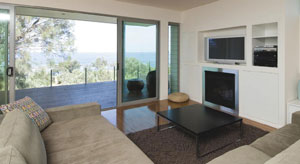 With views stretching to the city skyline and as far away as Geelong, this home has all the benefits of city living with the beauty of the bay
MELBOURNE'S BAYSIDE SUBURBS appeal enormously to families who want to live close to the beach, enjoy the safety of their surroundings and yet still be a stone's throw from the many activities available in the central business district. Award-winning designer Graham Jones was approached by one such family who had purchased a stunning site with an associate, the intention being to split it down the centre and create two totally individual contemporary homes. The first of the two homes, also designed by Graham Jones, was featured in a recent edition of Contemporary Home Design.
The second home situated on this imposing, elevated site provided wonderful potential for 180-degree views across Port Phillip Bay. By day, the city skyline appears to rise up from the blue-green waters of the bay and by night, the whole bay is awash with myriad colourful lights stretching as far away as Geelong. The axis of the site is north/south, enabling the home to be designed to capture the beauty of the bay while enjoying the warm winter sun streaming into the principal living rooms through large, north-facing windows.
As the subdivision created two rather narrow building sites, it was decided to position the main entry to the home at one side of the building. This allowed for better zoning of the home, less wasted space and a more cohesive floorplan. Open and double volume in appearance, the entry was not only a practical link between the two separate pavilions, but also with its massive glass walls and floating bridge, provided the impact which has set the scene for the home.
Space planning is simple, with the kitchen, dining and living rooms positioned on the upper level overlooking a large deck area towards the bay views. Also on the upper level, the master bedroom is accessed via the entry bridge facing the front of the site. Children's bedrooms are located on the lower level close to a large rumpus room, which faces sea views beyond a small swimming pool. The pool appears to cantilever as the rear garden drops steeply away to the north.
The front façade of the building is pared back and minimal, blending contemporary shapes in Dulux 'Fair Bianca' rendered finish and creating a stunning contrast with the use of stained natural timbers. –CHD–
GRAHAM JONES DESIGN PTY LTD
1a Main Street, Mornington Vic 3931
Tel: 03 5975 8747
Website: www.grahamjonesdesign.com.au
Project Designers: Adrian Kucyk, Graham Jones
Artworks: 'Without Pier' Gallery
Bay Road, Cheltenham Vic 3192
Photography: Chris Groenhout