By Tracey Hordern  
The residents may not necessarily live in harmony with each other, but the eco-friendly Big Brother Green House has made an admirable effort to blend in with the environment.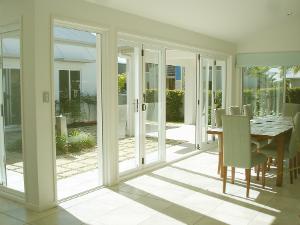 You know environmental considerations have hit mass consciousness when popular commercial television shows include aspects of challenging our environmental impact on our surroundings. Television producers are always trying to tap the psyche of their audience and it's encouraging to see programming is picking up on our increasing awareness (and willingness to learn) about sustainable practices in the home.
Of course, this is all a result of the ramifications of climate change and the media is, as it should be, ever reminding us of our need to change how we live. The television content to emerge from this has come from both public broadcasters and the commercial channels. SBS offered us the EcoHouse Challenge, and the ABC gave us Carbon Cops. Both are similar in their light-hearted delivery of a serious issue, pitting households against each other and competitively wrangling with the issues of energy, waste, water and transport. Both expose viewers to possible changes that the average household can implement.
One more surprising contributor to the outpouring of green content is Channel Ten's Big Brother, with their Big Brother 07's Green House. While the Big Brother house hit the headlines for raunchy housemate behaviour, at least in terms of its impact on the environment, the Green House was the cleanest and greenest yet. Big Brother gave the green light to create an environmentally Green House. The producers stress it was not created as a blueprint for your average house as this one is essentially a film set, with a successful television show's budget. Rather, the Green House was an exercise in raising viewer awareness of this important issue, providing an opportunity to showcase green products and services and the possibilities that exist to make positive changes in a living environment.
The production company behind the hugely successful Big Brother show is Endemoi Southern Star. They clearly state that many of the ideas used in the Big Brother House were not necessarily commercially viable in a domestic environment. Endemoi Southern Star stresses the producer's aim was to introduce viewers to the many green strategies they could consider in their own home. This is done through the television show, how energy and resource usage impact the housemates. While the Big Brother 07 house has wrapped, the house itself is open to the public. Once again the public is invited to explore the green options.
Production Designer for Big Brother, Rodney Brunsdon: 
Speaking exclusively with Contemporary Home Design, the Production Designer for Big Brother, Rodney Brunsdon, is clearly excited about the direction the Big Brother House has taken. Even more exciting, it looks like Big Brother houses from the other 35 (count them!) countries are taking the lead from Australia and incorporating green principles in the design of their houses. That's encouraging on so many levels; that Australia has set this fantastic standard, and that it is a reflection that young mainstream viewers all around the world are being exposed to this information.
According to Rodney, "We got Tone Wheeler, the principal architect and well-known environmental activist from Environa Studio involved; he was to be our green consultant. We knew from his extensive experience that he would be able to put together a great source list of green product suppliers and service providers. Tone Wheeler also explained the processes involved in implementing these green strategies and what we could expect. This was an exciting direction for us to take and it was great to have the assistance of someone as experienced as Tone Wheeler.
"From the source list Tone put together for us, we approached those suppliers and contractors that we felt would be appropriate for the Big Brother house. Of course, it was a great opportunity for their products and services to be exposed to a wide national audience, but their product needed to be relevant.
"The greatest change to the Big Brother house in terms of resource conservation was the grey water system that was installed. Tone consulted closely with us on this, explaining how the grey water cycle could work with the house. For instance, the housemates showered from water that came from the roof into the tanks. That shower water was then used for toilet flushing. But with all of the water recycling, we still needed rain, so sometimes we just gave the housemates a bucket of water.
"We also installed solar panels on the roof and that was great, but realistically it just reduced our electrical output. This is a film set and it would not be possible to entirely power the house and the set from solar panels, but they did significantly offset the power usage. The local council really helped. It turns out that they are intensely looking at all the alternatives.
"On the floor we used goat hair carpet; this triggers far less allergies than standard carpets as well as being incredibly hard-wearing. We also had a herb patch, and that was great, though it was not enough to keep up with the food demands of the housemates.
"The most important products that we needed to avoid were oil-based products, including any Perspex or vinyl products. For instance, the tunnel from the house down to the buggy would once have been Perspex, but we chose a fabric and it's been great. We learnt to think alternatively and sometimes the product we did get would not be perfect, or what we are used to, but that's part of the charm. Some of the more unusual household furniture items included the decking around the spa, made from munched up computers.
"Some products did not work as well as we needed them to work. For instance, in the bathroom the benches were made from recycled yoghurt pots, but that was not as hardy or resistant to certain products. But again, the object was to broaden viewers' minds. Another great outcome was the black lounges in the backyard, the ones the housemates were often seen lounging on. These were made from recycled plastic bottle top caps from China! A lot of these products would be out of reach financially for the average viewer. But as the demand increases, that should bring the prices down.
"The Big Brother 07 House is now open to the public and 2000 people go through it every day. The visitors get a real experience of what we created first hand with the assistance and direction of Tone Wheeler. Again, it's great for these suppliers to have such exposure to the public. And it's great that the public is exposed to them."
Tone Wheeler — Environmental Consultant, Big Brother House: 
Enter Tone Wheeler, environmental consultant to Big Brother. Tone Wheeler is an architect, author, educator and consultant with a sustained interest in environmental architecture and design. Tone's architectural practice, Environa Studio, designs individual and multiple housing projects, commercial buildings and urban design schemes, all with a strong emphasis on social and environmental concerns. His interest in environmental design was originally aroused as a student when he travelled the world on a research scholarship during the energy crisis of the 1970s. Tone Wheeler has won numerous awards and competitions for architecture and urban design, is a member of the RAIA National Environment Committee and a frequent speaker and author on architectural matters.
Speaking exclusively with Contemporary Home Design, Tone Wheeler describes the essence of sustainable building practices and specifically, design components of the Big Brother 07 Green House. For practical purposes, Tone breaks sustainability down into four working elements: earth, air, fire and water. As Tone explains, "Earth is the material of a building. Air is the measure of space, indoor and outdoor space of a building. Fire is the energy component and water is obviously water. Sustainability is more than saving water or energy. It is better to have a house that is warmer in winter, cooler in summer, has better artificial lighting and far less toxins."
According to Tone, "One of the most simple and effective sustainable responses is to build more modest houses, houses that are substantially smaller. There has been some resistance to this, however councils are now starting to limit the size of new houses somewhat. They cost less and are easier to maintain.
"For us, we try to make sustainability evident within the design. For example, in a Federation-style house, or even a villa, we would want the sustainability of that building to be clearly evident. It could be visible because of the verandahs, shading devices, roofs that pitch up to the sun. You would know, just by looking at the building, that it is a sustainable design.
"The Big Brother 07 Green House has been completely rebuilt since last season. The house was encased within a huge tin shed that also houses the hundreds of cameras and crew at the studio complex at Dreamworld on the Gold Coast. Essentially, it's a box within a box, set inside a film studio. Some of the solutions were to include the installation of a solar hot water system and to increase the use of fluorescent lighting and put photo-voltanic electric cells to convert sun into electricity.
"For water, we installed water tanks as well as installing a grey water system for the shower and for water to flush the toilets. This was the first grey water system legally allowed in Queensland. We had to have a meeting with local mayor and the premier regarding overturning in this instance their ban on grey water. There's an old legal requirement whereby a blanket ban has been enforced against the use of grey water systems. This made installing a grey water system a matter of overcoming prejudices. Considering Queensland has one of the greatest urban drought problems in the country and they are currently on level five water restrictions, it was great that the Big Brother House was the first house in Queensland to use grey water legally.
"Everything the housemates did was connected to sustainability, including the length of their showers and not wasting water or energy. We installed solar panels on the roof. Power from thin film solar panels on the roof were returned to the main grid to reduce the overall power needs of the house and a solar panel unit heated the water for showers. The showers, taps and shower heads were all fitted with water-saving devices, with the filtered shower water supplied from the house's six water tanks."
According to Tone, it makes sense that if there is just a single thing you can do it would be to put a solar water heater on the roof. "This is one of the sunniest countries in the world and almost every Australian has a roof that points to the sun. Solar technology has advanced so much in recent years and solar water heaters are now so efficient, inexpensive and easy to hook up to the existing water system that everybody should have one."
"It's easy to rework an existing house to make it environmentally sustainable and even if it's small changes, they all add up. To begin with, if houses had adequate insulation, that would decrease the need for heating and cooling — the greatest drain on energy use. Another green strategy is to improve the water system by installing a water tank. If we all considered what impact we're having every time we make a decision about how to construct our living space that would have a vastly positive impact. 
"If everyone in Australia could make even a small improvement to how they live in their house, then in 10 years we will have vastly improved the many badly designed houses we currently have and we will have greatly reduced the greenhouse gases and environmental damage that they do. Even things like turning electrical appliances off at the power point on the wall has an effect, because they can consume more energy on standby than when they're being used!"