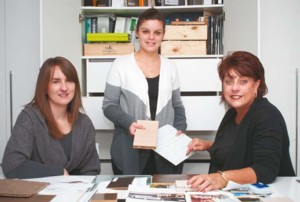 A career in fashion design opened the doors to an exciting world of interior design for Ruth Meli. It was helping her husband with home renovations, however, that first put her underlying passion for the art form to use. And when she was employed by a real-estate agent to inform potential buyers of the design possibilities in each property, she knew she was on to something good.
For more than 20 years, word of mouth worked to Ruth's advantage as she paved her way in the fascinating world of interiors. Three years ago, Ruth sold her interior business that included a retail shop. It was the first big step to rebranding her business. "I felt it was time to move from retail to a studio where clients had a peaceful environment to pick and choose products and finishes," she says. Meli Studio now operates at Kirribilli Marina, where the water lovingly laps at the door. It's a creative and inspiring zone where Ruth and her team, consisting of Joanna Mudge and Danielle Carmeci, suggest building products, furniture and soft furnishings, window furnishings and accessories to their clients without interruptions.
As we all know, building can be overwhelming when one has to select all the products — kitchen cupboards, benchtops, splashbacks, flooring, tiles, colours, door furniture, light fittings etc. In the Meli Studio, all the newest products are on hand to offer unique service. Every selection is glued to a concept board that is used as a reference throughout the building process. A full specification of all chosen products is a great help to the builders and suppliers. Meli Studio has become one of Sydney's leading and innovative interior design practices and it's recognised for consistently delivering warm, innovative and functional design solutions. It retains an impressive reputation for design excellence and respect within the industry.
You'll find an array of services here, from medium-density to luxury developments including apartments, private homes, resorts, aged care, boats, retail, corporate offices and hotel fitouts. They cover the whole process from pre-development through to the post-development stage. Each project that makes its way to the studio is treated with genuine excitement and individuality. "The people, the products and the anticipation of each new project is what I love about my work," confesses Ruth, and it's indicated through the detailed steps she takes with each design. The process begins with the creation of an introduction concept board which is given to each client. The board includes the chosen finishes as well as a full specification for the builder. It's a unique touch that brings a vision to life for both Ruth and the client. With more than 20 years of experience in the design industry, Ruth has seen many trends come and go. "The most common changes over the past few years have been a strong desire for more casual areas such as outdoor rooms, usable gardens, connecting barbecues to kitchens and more sustainable use of products," she notes.
Her clients are becoming more adventurous with deep colours, both internally and externally, as well as with restorations of classic and old European replicas and signature pieces. "Eclectic mixing is in," states Ruth. What's on the horizon for Ruth and her team? They're going to keep enjoying what they do best — introducing people to the amazing world of design and decoration. They revel in the achievement found when they create an ambience that suits someone's personality and environment so there's no slowing down to be found here — always looking forward to the next challenge.