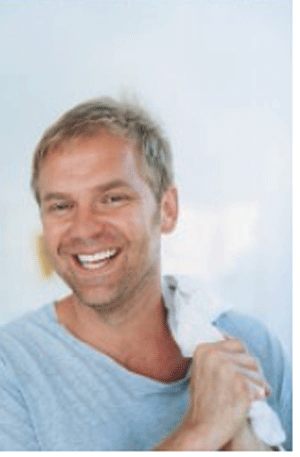 Beloved Australian restaurateur Bill Granger simplifies our lives with his new cookbook, Bill's Basics

Bill Granger is well known, both in Australia and internationally, and is the author of a number of acclaimed cookbooks as well as being a successful restaurateur and television presenter. His laidback style and easygoing approach to food, cooking and life are surely an essential factor in his enduring popularity.
This relaxed attitude is on display the day of our interview via phone. Bill is in the midst of a whirlwind publicity tour to launch his new book Bill's Basics and
must be exhausted from the demanding schedule but you would never guess this from his voice. He sounds upbeat and cheerful, does not rush through his answers, and it's easy to hear the passion for his craft coming through the tone of his voice.
Bill's Basics is a re-working of 100 classic dishes from around the world, with Bill's signature, a simplified touch. "This idea has come from my own life," he explains. "I'm busy and I work so I don't have time for intricate meals. I want recipes that are easy and simple that I can make in my own home.
"When I research recipes, I instinctively strip everything back and simplify it by asking 'what ingredients or steps can I get rid of'? It sounds basic, but I love good food and my wife and I are both busy so the meals need to be quick yet healthy."
Bill's goal with this book was to encourage homeowners to get into the kitchen and start making different meals. He says it's too easy to get into a routine when you are busy and cook the same dinners all the time. He hopes the recipes will give people the confidence to try something new.
Born in Melbourne, Bill moved to Sydney and began cooking professionally while studying at art school. His first restaurant, bills, was opened in 1993 to rave reviews with two more following soon after in 1996 and 2005. Bill has since opened two more restaurants in Japan — Kamakura in 2008 and Yokohama in 2010.
While Bill grew up in a traditional Australian family in which, in his own words, food was "not important", he feels he was born with a passion for food and eating. "I had friends who came from a variety of backgrounds and this opened my eyes to a world where food was important and part of a culture," he says. "At a young age, I became the main cook of the family and I was very lucky
because they supported me and loved what I made."
Reflecting his core values, Bill's kitchen at home is simple and highly functional. In fact, it can be seen on the cover of Bill's Basics. "We bought a new house and it had the worst kitchen," groans Bill. "Very cheap and limited and we were desperate to renovate but we were living between Sydney and London so it was difficult to co-ordinate. In the end our motivation was needing somewhere to shoot for the book cover so we ended up
getting it done in three to four weeks!"
Bill's goal was to keep the design of the kitchen sleek and basic, but add interest in areas that can be changed as the family's tastes evolve. "I love this idea," he says, "because you can add accessories or gadgets to mix it up and when you are sick of it, you can do something new. "I love a kitchen with a sofa in it," he adds. "I hate to face walls all the time. My kitchen must be a part of the social aspect of my home."
Given the time factor, and the fact that the kitchen was limited for space, I'm keen to know if there is anything Bill would change. "I'd like a bigger fridge; you can never have a big enough fridge," he states. "I'd also add two dishwashers and I'd love one great, big island that I can do everything on. But we don't have the space where we are now."
His recent renovating experience has given Bill an insight into what a kitchen most needs and he passes on some advice to homeowners. "Remember that the space between the sink and cooker is the area in which you will do most of your cooking so maximise that as much as possible."
A busy dad, Bill nevertheless finds time to cook regularly at home for his family. His favourite dish is roast chicken, which his children love. "I do a version with stuffing on the side so you can have as much as you like," he laughs.
When asked about the number one item he can't live without in his kitchen, Bill is quick to answer. "My KitchenAid mixer," he says. "If you love baking, it's
too easy. It looks great on the bench, so it can stay on display and not have to be dragged out when you want to use it." As the author of eight best-selling cookbooks, I imagine it would be difficult to choose a favourite so I put this question to Bill. "I'm loving Bill's Basics," he says. "I feel I've worked out what I'm doing with this book and the editing was particularly strong. Also, I love Sydney Food, because it was my first and has nostalgic power."
Bill's busy 2010 has become an even busier 2011 with a restaurant opening in London in the first half of this year and another due to open in Tokyo in the later months.
Being a self-taught cook has not changed Bill's attitude towards food and produce. The simple, joyful approach to cooking and serving food found in his numerous restaurants is mirrored in his cookbooks and television shows. His goal is to make cooking accessible, meaningful and driven by fresh, healthy flavours for even the busiest of households. Given his track record — all
his books are international bestsellers, having sold in excess of 850,000 copies and translated into several languages — it's clear that this is an idea that resonates strongly with many of us and will do so for many years to come.
Pavlova with brown sugar and strawberries
I like my meringues to be old-fashioned and gooey in the middle, rather than
bright white and explosive. The vinegar and arrowroot give this a chewy centre
and I add soft brown sugar for its caramel flavouring and gorgeous golden
colour. Pavlova is traditionally a summery dessert but this one, with its warmer
colouring, also works beautifully in winter with torn figs instead of strawberries.
Ingredients:
6 egg whites
1/4 teaspoon cream of tartar
1 teaspoon vanilla extract
225g (1 cup) caster sugar
80g (ZC cup) soft brown sugar
1 tablespoon cornflour
2 tablespoons arrowroot
2 teaspoons white vinegar
To serve:
300ml (1 14 cups) cream
150g Greek yoghurt
500g strawberries, hulled and halved
1–2 tablespoons honey
Preheat the oven to 200 degrees C. Draw a 20cm circle on a sheet of
baking paper and place the paper on a large baking tray. Beat the egg whites
with the cream of tartar and vanilla until stiff peaks form. Add the caster
sugar and brown sugar, 1 tablespoon at a time, beating until all the sugar
is incorporated and dissolved and the mixture is thick and glossy. Stir in the
cornflour, arrowroot and vinegar. Pile the mixture into the circle on the baking
paper and spread gently into shape with a spatula. Put in the oven and reduce
the temperature immediately to 130 degrees C. Bake for 1 hour 20 minutes,
then turn off the oven, prop the door ajar and leave the pavlova inside until
completely cooled. To serve, lightly whip the cream and yoghurt together
and spread over the pavlova. Toss the strawberries in the honey and arrange
over the top. Serve immediately. Serves 8–10.
From Bill's Basics. Reproduced with permission.