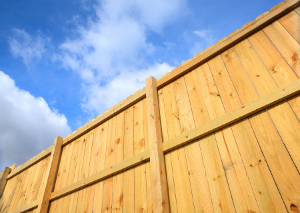 Versatile garden fencing and gates to complement any landscape design
Whether your primary concern is security, providing privacy or making an aesthetic addition to your property, ColorMAX® Boundary Fencing by Dunn & Farrugia Fencing and Gates is the sturdy solution. Manufactured from Colorbond®, ColorMAX® Boundary Fencing (which is available in two profiles, Original or Reflect™ and 18 colours) comes with the option of pressed 3D lattice, LouvrLAT®, plastic post caps and decorative metal ball caps for maximum design flexibility.
Established in 1970, Dunn & Farrugia produces a wide range of garden fencing and gates that offer the security you need with the good looks you crave. Available in a range of styles, with curved, sloped and stepped panels, their speciality and materials (pre-galvanised, hot-dipped galvanised, aluminium or DuraBOND®), Dunn & Farrugia garden fences and gates combine style with strength.
The company also produces an impressive array of glass fencing, tubular fencing, security fencing, balustrades and automated gates.
With Dunn & Farrugia you are dealing direct with the manufacturer, which means that if you want something custom-made they can create a fence or gate to your specific design. And if you are planning a do-it-yourself fencing project, you can visit one of their D&F Superstores, where you can walk in and walk out again with the fencing of your choice.
Dunn & Farrugia Fencing and Gates
44 Preston Street, Penrith NSW 2750
Tel: (02) 4731 6974
Website: www.dunnandfarrugia.com.au
D&F Superstores:
6 Foster Street, Queanbeyan NSW 2620
Tel: (02) 6284 2688
27 Durgadin Drive, Albion Park Rail NSW 2527
Tel: (02) 4257 5977
4/392-398 Manns Road, West Gosford NSW 2250
Tel: (02) 4324 4122