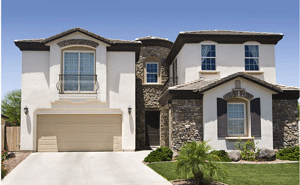 With an inspired and innovative approach, architect Martin Dickie has given this family home a new lease on life
Words by Suni Golightly Photography by Ron Tan
The stunning contemporary home you see here is proof that designing for a family need not be restrictive in terms of style. With valuable creative input from the homeowners, architect Martin Dickie has turned what was a rather ordinary, single-storey house into an open and inviting space with a second-storey addition dedicated solely to the family's youngest members, and a spectacular outdoor area.
To achieve the transformation, the core of the house was totally removed, providing Dickie with a blank canvas on which to create a new living area. The space that had previously been given to the children's bedrooms was reclaimed as generous living spaces, and a new first floor was added to relocate these bedrooms as well as a bathroom and play area.
There is a striking balcony off the play area which has a sloping roof and a counterpoised sloping glass balustrade, giving the feeling of pitching the user into the swimming pool below. The upper floor is connected to the lower level by a stunning and unobtrusive hung staircase, which has a steel core, supporting timber treads which appear to float into the entry space, and a 'totem' balustrade anchoring the lowest steps.
Downstairs, the family rooms have been remodelled, the kitchen redesigned in keeping with the open-plan style of the rest of the home, and a new media room opens to the poolside barbecue and entertaining area under a sheltering roof beside a new swimming pool. This roof is supported by a Y-shaped column that reduces the span of the roof.
The project has been a true collaboration, according to Dickie. Throughout the process, the architect, client and builder, Tony Langley, have worked closely together, bouncing ideas, solving problems, offering suggestions and working together to bring this warm and inviting space to life.
"It (the home) is the product of an interesting brief, open-minded and adventurous clients and a skilled and helpful builder," says Dickie of the project. "It was achieved by committed tradesmen who solved many of the construction issues in ways sympathetic to the design intent and turned their hands to many site construction tasks not anticipated.
"Special elements like the hanging stair, the angled wall and the Y column are the result of suggestions by the clients in the course of design discussions. Some were a challenge to the both myself and Tony but all are essential parts of the overall design."
PROJECT PARTICULARS
The project was designed by Martin Dickie of Dickie Architects 23 Alfreton Way Duncraig WA 6023
Phone: 08 9448 4806 or email dicarch@iinet.net.au or go to www.members.iinet.net.au/~dicarch. The project was built by Tony Langley Phone: 0417 796 721

FLOORING
Kitchen: Bamboo
Dining: Bamboo
Living: Bamboo
Bedroom: Carpet
Stair: Hardwood treads
Outdoor: Reeded timber decking
WALLS
All interior walls plastered
Outdoors: rendered
KITCHEN
Benchtop: Marble by Absolute Stone 08 9244 7888 Cabinetry: Wangara Classic Cabinets Landsdale 08 9302 1997 BATHROOMS
Ensuite washing plane by Absolute Stone
Spa bath: Stylus Resort White Spa bath tap: Senator Bath/Shower Mixer Chrome
Toilets: Stylus Minuet Linked Toilet Suite White
Vanity sinks: Stylus Minuet Semi Recessed Basin White
Vanity taps: Senator Basin Mixer Chrome
Bath: Stylus Big 6
OUTDOORS
Landscaping, decking, shading and paving details: by builder
Swimming pool: Imperial Pools 08 9248 6771
Pool fencing: Frameless glass by builder
Roofing: Colorbond Shale Grey
"The project has been a true collaboration, with the architect, client and builder working closely together to bring this warm and inviting space to life."
TIP: During the work on this project, the architect, builder and homeowners relied on models of the home to try new ideas and get a real feel for the space. No matter how basic, a model of your design is a useful tool in visualising and testing your ideas. If space is tight, build a simple model and some basic furniture to scale to make sure your space management ideas are realistic. The model need not be elaborate: a cardboard box and some matchboxes and paper will do, as long as it is to scale.