Complete Home 
wishes John Croft Design a happy 30th birthday.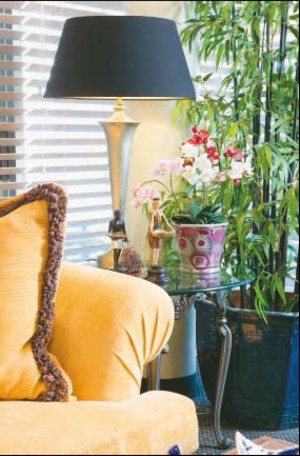 One of Brisbane's best-known and best-loved interior design firms, John Croft Design, turned 30 this year. John and his team of talented designers from this multi-award-winning company have been creating unique and colourful designs for their clients in Queensland and around Australia, many of which have featured in Luxury Home Design magazine.
From early beginnings it was John's goal to open his own interior design business, something he achieved while still quite young. He started John Croft Design from his Indooroopilly home at age 26 and a few years later he expanded by opening a small shop in Toowong. "I persevered bit by bit, then I bought my first building in Spring Hill, Brisbane, in 1987 which was double the size of my previous shop," related John. This is when his reputation began to grow and as his design skills and name became recognised, business flourished. In 1999, John bought a much larger premises in Fortitude Valley, where the company is still based today, with 10 experienced and professionally trained staff including six interior designers. John said he was strongly influenced by famous British interior decorator and designer David Hicks, known for his employment of bold, shockingly vibrant colours, as well as mixing antique and modern furnishings and contemporary art for his famous clientele.
"I was fascinated by his work," said John. "He worked on big projects, such as for the royal family. He mixed mostly contemporary patterns with traditional furniture; it was a very eclectic look." As a member of the Design Institute of Australia, John describes his style as "dynamic, exciting, not in a box and, most importantly, fun"! His projects are a demonstration of his passion for bright colours, which create excitement in any interior. "Even if we do traditional interiors there's always a zing, something that makes our clients a little excited. Even if they have formal rooms, there is still a friendly, welcoming feel. I think colour is coming back in classic furnishings. The retro/ classic combo is here, with fun. We need it; everyone needs a little excitement in their lives." We asked John what was the secret to his success over such a long period. He replied that providing exemplary service was the key and he was proud to say that most of the company's work comes from existing clients all over Australia, whether it be new work for themselves or from referrals to their friends — which is always a good testament to any company's success.
John thanked his staff and suppliers for their 30 years of inspiration, creativity and dedication and, most importantly, gave "a big thank you" to his clients "for allowing us into their homes and lives".