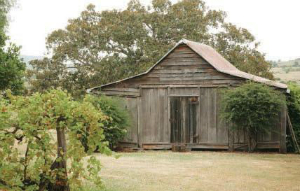 A shed can be for more than storage … it can be a workshop or an architectural feature
The quintessential backyard accessory
Sheds are a quintessential part of the Australian backyard, from the bark slab structures of yesteryear to the quaint shuttered and prettied-up sheds that resemble miniature houses. There was a time when no self-respecting Aussie backyard would be without a shed — and oh what treasures lurked inside them! They became home to everything from lawnmowers and garden tools to disused dolls' houses and trunks of old clothes. They were the perfect out-of-the-way place to store all manner of junk.
Lavish some attention
In lean times our sheds have tended to become somewhat rundown and uncared for, but just recently, my husband brought the shed on our property back from the brink. When we bought our house, almost without exception, visitors would remark, "Of course you'll have to demolish the old shed." Luckily we could see beyond the peeling paint and rotting timbers and what has emerged after much hard work is a shed that really suits the age of our home.
Almost everyone can make use of a backyard shed, be it as a place to store gardening tools, a potting shed, child's playhouse, chook shed, man cave, or even extra guest accommodation. And the design of sheds has come a long way. What was once an afterthought, often built from scraps and scavenged leftovers, now has much more of a designer influence. With more effort given to the aesthetics of our sheds, they no longer need to be hidden at the bottom of our gardens; they can be a charming focal point.
The addition of windows, shutters and window boxes can lift even the most humdrum of sheds out of the ordinary. A fresh lick of paint can do wonders, too, but one of the most effective ways to maximise the appeal of your garden shed is to make it look like it is part of your garden. Planting pretty climbing roses and charming flowering shrubs near your shed will help it blend into its surroundings and soften its impact on your landscape.
The right materials
Your choice of materials can have a big effect on the look of your finished garden shed. Stone, of course, instantly gives country flair to your structure but isn't always practical when it comes to budget. Weatherboard is another wonderful choice, giving quintessential appeal for relatively little outlay. Cedar sheds can look the part, but are not a budget option. Modern-day fibro is both safe and affordable and even comes in a weatherboard look-alike. Paint colour is another way to bring life to your garden shed, with creams and whites no longer the only options. You can choose a bolder hue offset with white trim for a much smarter look.
Consideration can also be given to dormer windows, skylights or the simpler clear acrylic roofing to allow plenty of natural light into your shed. Of course, making the structure weatherproof is of primary concern if you will use it for storage. If you'll be using the shed as a studio or workspace you may want to factor in plumbing and electricity, but be aware, additional council approval may need to be sought.
Use a Shed To…
• Store gardening tools, pots, seeds and bulbs.
• As a workshop for fixing tools or enjoying a hobby.
• A place to keep pool chemicals and equipment.
• House umbrellas and outdoor cushions during winter.
• Store a boat, bike, kayak or lawnmower.
• Keep hardware, materials and handyman supplies.
• Enjoy a few hours of blissful quiet and solitude.
Country Makeover
• Add a weather vane for character.
• Plant out window boxes or hanging baskets full of cheery geraniums.
• Include a window and shutters.
• Display a quirky collection of country-style curios, such as watering cans or garden tools.
• Plant a climbing rose for colour and added country charm.
• Hang a vintage sign over the door.
• Put a cute fence around it – a picket fence would be ideal.
• Paint it a fun colour with contrasting trims.
• Add architectural details which you can get from salvage or secondhand outlets.
• Add some quirky hinges or handles to your shed door.
Buying Guide
• What is the purpose of the shed? Consider this up front as it could affect the council classification of the building with implications for future use. Carefully measure up what is needed to go inside and consider what light, access, water, electrical and security requirements will be required, as these are cheaper and easier to install before the shed is built.
• Who will build it? Do you want a kit you can build yourself, or will you need the services of a shed-builder? Some companies provide high-quality instructions and DVDs to assist you in the construction of your shed. If you plan to have the shed built, check what services your shed company provides, as some have in-house builders, while others use sub-contractors and assist with the project management.
• Get a site-specific design. Only some companies provide a shed that is designed for the specific needs of your site. This can include topography, regional wind speed, importance level and snow loading of your building to name just a few specific requirements of the Building Code of Australia.
• Get a quote: Ensure you understand whether the price includes GSGST and delivery and get an itemised list of materials so you can compare quotes easily. Look for a company that can also supply you with free designs, council plans and structural engineering calculations.
• Check whether you need council approval: The variation between councils is great, however, there are a handful of situations where you do not need council approval, although there are some limitations you need to be aware of.