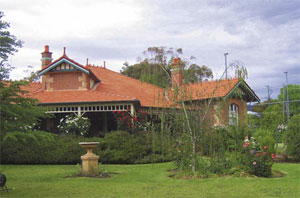 There they were, Robbie and Errol Holdaway, both standing anxious at the auction where, under the auctioneer's hammer, was the Mudgee property known as Forgandenny, a beautiful Federation house typical of many built in the area at the time but one of the few surviving. The home's ornate verandah, large gardens and other stunning details made it stand out from other homes in the surrounding area and made the couple apprehensive about whether they had any chance of making the winning bid.
But for Robbie, this house stood out for more than just its curb appeal. Erected in 1900, Forgandenny was built for Dr Charles Lester, the first surgeon to set up practice in Mudgee and the son of Mudgee's fi rst pharmacist. But the most infl uential part of the home's history for Robbie and Errol was that Dr Lester was Robbie's great-grandfather and this made her even more determined to bring the property back into the family. When the hammer fi nally came down Robbie realised her dream and Forgandenny was once again in her family's ownership, much to the delight of the crowd when they were told the story by the auctioneer.
"The name comes from a little village named Forgandenny, which is about 35 kilometres north-west of Edinburgh in Scotland," says Robbie. "My great-grandmother, Mary Elizabeth Bruce, named the house to remind her of her hometown village. It is typically early Federation and very classical but without being overdone and I was inspired and influenced by the previous owner, as she had done a brilliant job researching the house and its original décor," Robbie adds.
 "A lot of work and money had gone into the house before we bought it in 2000 and I just loved what had already been done and I continued on where they had left off. Then I furnished the house with antique and original furnishings.
"According to old photographs my parents and grandparents had, it is very similar to its original décor and furnishings. Both Errol and I always had a liking for old things and we began collecting bits and pieces while we were travelling as flight attendants. I also had some furnishings and collectables that had been passed on to me from my ancestors on both sides."
Robbie grew up in Mudgee at her grandparents' property named Binnawee homestead, which was purchased by Dr Lester for his son, Robbie's grandfather, in 1920. Binnawee homestead is the oldest two-story homestead in the Mudgee area and is state heritage-listed. Robbie's parents remain on the property today so growing up surrounded by a lot of history has given her an appreciation of wonderful old pieces. In fact, some of the furniture in Forgandenny, which came from Binnawee, actually came from Forgandenny before that, when Robbie's great-grandparents owned it.
Some such pieces are the large dining room table and chairs, bedroom settings and dumb waiter. Robbie also has old photographs and documents that were found in an old suitcase about to go to the rubbish dump. And a few years ago the old chemist shop in Mudgee was sold and an auction held. Much to Robbie's delight she was able to purchase some of the original equipment once owned by her great-grandfather.
Forgandenny has been running as a B&B since 1999, before Robbie and Errol purchased it, and it made sense to Robbie to continue this when they bought the property. Especially when, as fate would have it, she was made redundant by the collapse of Ansett in 2001 and this gave her something to throw herself into. Meeting new people and welcoming returning guests gives Errol and Robbie a lot of pleasure and everyone who stays at Forgandenny loves to relax on the home's beautiful verandah and enjoy the gorgeous garden.
"We spend a lot of time and money on the garden," says Robbie. "It's a labour of love and we believe it is one of our 'signatures' for our business. This has been confirmed by our guests, who love wandering around it or sitting on the verandah admiring it.
"My roses would be my favourite plants, especially the 'Double Delights'. They are amazing in colour and their perfume is to die for; however, I don't like the thorns and I have many a wound from them," she laughs.
Inside the house the old billiard room, which is now the B&B's guests' lounge/dining area, evokes images of times gone by. Robbie can imagine the grandeur of its early days with gentlemen playing billiards while the ladies sat around and talked and it gives her a warm, relaxed feeling. The high ceilings, exquisite original stained-glass windows and huge curtain drops add even more class to an already beautiful room while the open fireplace keeps the room warm and cosy in the winter months.
Inside the house the colours are light and bright, which makes the perfect backdrop for all the wonderful antiques throughout and although Robbie knows the B&B will continue to evolve, it will predominantly stay the same. "The house is heritage-listed and hence any decorating and refurbishment has to be sympathetic with the era of the home," says Robbie. "I also think it would totally spoil it to do otherwise."
"The upkeep on an old place of this size is very expensive but we will continue with the B&B as long as we enjoy sharing this wonderful house and its incredible history and stories with everyone. Errol and I have nearly 70 years experience between us in customer service and we still enjoy it."
No matter what else is in store for Forgandenny, Robbie vows this heirloom home would only leave the family again, as a last resort. "I'd hate some other ancestor to have to go through those auction day nerves," Robbie laughs.