Quality cane furniture that combines classic, timeless style with modern comfort.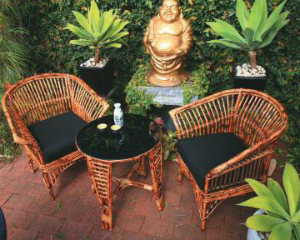 Conjuring up images of grand, tropical resorts and long, leisurely days spent languishing on the porch or by the pool, cane furniture has enduring appeal. Placed beneath a window on a covered verandah or deck, a cushion-topped day bed or comfy sofa can be used as both a focal point and a place of repose. And if you want to create a nook on a patio in which to share a cool drink with a friend, there's nothing more appealing than a cane table with chairs for two.
For more than 30 years, Casablanca Cane has been producing a beguiling range of high-quality, Australian-made split-cane furniture. Owned and operated by the Blewer family, Casablanca Cane has a long and proud tradition of supplying designers and architects around the country. It also has a solid reputation for using only the best-quality materials and insisting on the highest-quality craftsmanship.
While the range pays homage to the classic designs of the 1920s and '30s, the furniture is made to cope with the demands of modern living, starting with the selection of day beds. By simply choosing a frame colour that complements your outdoor space and dressing it with cushions that reflect your decorating scheme, a Casablanca Cane day bed will look right at home in any setting.
Another popular choice is a Casablanca Cane lounge chair, ideal for those looking for a comfy piece of furniture that will allow them to stretch out in style. Then there are the table-and-chair combos, ranging from the Tub Dining Setting for four to the Club Dining Setting for two. And for comfort combined with classic beauty, you can't go past the Queenslander Setting, complete with two-seater sofa, matching chairs and footstool. To add the final touch to a setting, Casablanca Cane offers a coffee table in a variety of styles.
The full range is available in Gold Oak, Tortoiseshell or Lime White finishes. Custom-designed pieces are available upon request.