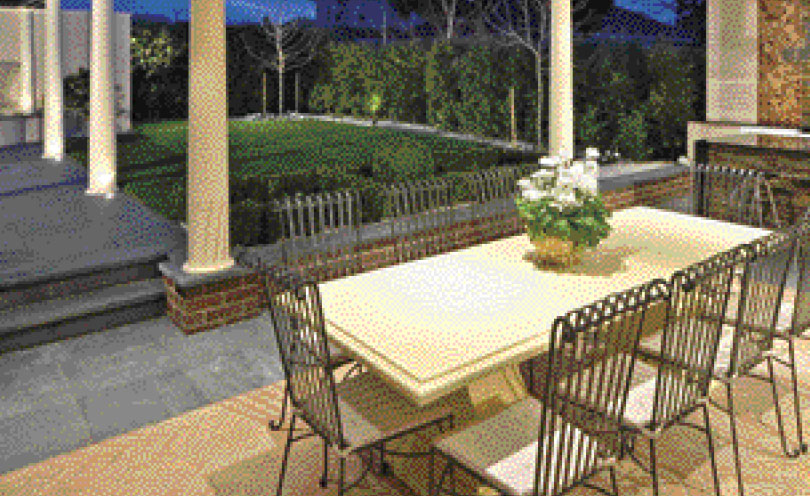 This luxury outdoor kitchen and dining area combine elegance with functionality
A spectacular outdoor kitchen and dining area, an effortless indoor-outdoor connection and an impressive outlook over an exquisitely landscaped garden — what more could the discerning homeowner and avid entertainer desire?
"The challenge for this project was to integrate the outdoor and indoor living areas of the home, with the emphasis on creating a luxurious space where friends and family could be entertained year-round," says John Woollard of Exquisite Gardens Australia.
Incorporating only the finest fittings and finishes, this elegant entertainment space boasts a fully functional outdoor kitchen, including a sleek granite island bench, state-of-the-art cooking station and rangehood. There is also a granite work/preparation bench, complete with sink and hot water, a refrigerator, white vinyl-wrapped cabinetry, stone walling and feature wood stacks.
The outdoor kitchen is located adjacent to the dining area, which allows the owners to cook and talk to guests at the same time. When seated at the table, which is large enough to accommodate 10, guests can relax in neo-classical splendour and savour the view of a traditional urn water feature positioned at the end of a grand colonnade. This colonnade draws the eye out into the meticulously landscaped garden area and adds an air of elegant formality to the setting.
During the day, skylights in the roof of the outdoor room allow natural light to flood in. At night, ceiling and wall lights combine with the garden lighting and water feature lighting to create the perfect atmosphere for a formal dinner party or a casual dinner with the family.
"For all the hard landscape areas and to fulfill the requirement for customised natural stone paving sizes that would ensure a seamless integration between the indoor and outdoor areas, we chose the natural stone specialists, Granite Works. The result is a design that is truly timeless," adds John.
"Granite Works also supplied the Sienna Stratastone and polished black benchtops used in the kitchen area. Their product range truly is endless and the design possibilities limited only by your imagination."
All in all, this is a project that is a perfect blend of classic styling, natural materials and modern functionality.
Project details
Landscape design and construction Exquisite Gardens Australia Pty Ltd 5 Montrose Street, East Hawthorn Vic 3123 Phone (03) 9882 2722 Mobile 0414 571 175 (David),
0404 099 175 (John) Email info@exquisitegardens.com.au Website www.exquisitegardens.com.au Stone by Granite Works International Pty Ltd 5 Montrose Street, East Hawthorn Vic 3123 Phone (03) 9813 5999 Mobile 0419 395 458 (Simon) Email info@graniteworks.com.au Website www.graniteworks.com.au Photography by Patrick Redmond