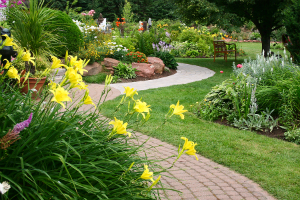 Billy Goat — the future for garden clean-up
It's time to start thinking about cleaning up those leaves and keeping the pathways clear of debris. With the current water restrictions in force, it's getting harder to keep pathways, paving and driveways free of leaf litter, dust and dirt. Gone are the days of just washing your cares away with the garden hose. That's where Billy Goat comes in. Its range of lawn vacuums and large, wheeled blowers is the ideal solution to keep your garden looking its best at all times.
New in the vacuum range is the MV650H. Powered by a 6.5hp Honda engine, this vac can outperform any on the market. With its 29-inch intake, drawing in 2500 cubic feet of air per minute, it can lift up to 98 per cent of a thick carpet of leaves from grass, paved or concrete areas. But it won't stop there. If you have had a party the night before, just pull the starter cord, adjust the intake door to fully open and clean up glass bottles, paper plates, garbage and confetti — all with the one machine.
Being a vacuum, the Billy Goat can also clean up around the pool without blowing loose debris into the water, saving you work cleaning the pool. With the optional on-board hose kit fitted, you can get into those hard-to-reach places and even the pool filter.
Billy Goat produces everything from vacuums, blowers and debris loaders to lawn mowers and specialist turf renovation equipment. So get into your local Billy Goat dealer to get a great deal on a model in the rugged Billy Goat range and save yourself time, money and water.
For further information, contact your local Allpower dealer or visit the Allpower website.
ALLPOWER INDUSTRIES AUSTRALIA
Toll Free: 1800 333 428
Website: www.allpower.com.au