Colour transformed this home in the Italian countryside.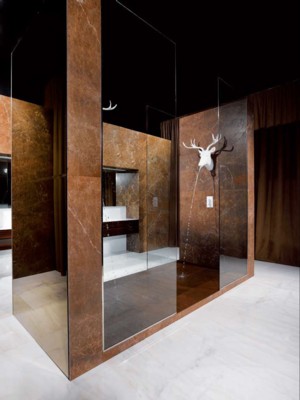 Exclusive to Antolini, Brown Chocolate chromaticities were used to restore this luxurious bathroom. After returning from a trip to Canada, the owners had a simple request for their bathroom restoration: that it incorporate nature into the design. Canada is well known for its picturesque landscape and natural beauty, so Antolini based the bathroom setting on this, achieving stunning results. Describing the bathroom as the key space in their house, the owners wanted it to encapsulate a simple yet wild atmosphere that is so common in the Canadian landscape, especially the woods.
"We wanted to strike the right balance with the modern style we applied to all rooms in our house and the traditional style. We achieved a compromise in our bathroom using only natural materials, such as the stone, with contemporary decoration choices and furnishing elements for interior design of the utmost elegance," explains the owner. For wall coverings and the shower area, the architect, chosen by the couple in Italy to conduct the project, intended to use a natural product that could recreate the intensity and softness of the colours of the land, as well as its stability. The choice was not an easy one and required a thorough search of the main suppliers of natural materials. Finally, the materials that were required for a project of this magnitude were discovered at Antolini, the leading Italian company in natural stone manufacturing. Brown Chocolate, a relatively new stone extracted in the Brazil "Nordeste" region, displayed all these characteristics. This granite is particularly appreciated for its structure, which is very similar to marble. The hues of Brown Chocolate are closely reminiscent of those of the earth, multiple varieties of brown interrupted by light white veins in continuous succession that create wonderful gripping scenes. 
Soft, reassuring colours express the sense of calm and relaxation the Italian couple was looking for in their personal "shelter". The bathroom has two separate spaces. The stone and glass shower box in its geometric and linear style displays two white deer heads of the finest ceramics. A fresh, copious water supply gushes out of their mouths. Right behind, another important Brown Chocolate wall contains the wash basin section made of two sinks with Essential taps and a long wall-mounted mirror. In front of the shower box is the relaxation area, composed of a splendid white bed. This perfect combination of imperial and modern styling has created an oasis of rest, to enjoy each day immersed in the colours of nature.
Antolini,
Via Marconi 101, 37010 Sega di Cavaion, Verona, Italy.
039 045 6836611
al.spa@antolini.it