Luxury meets sustainability on Victoria's Mornington Peninsula with the architectural innovations at Christopherchris.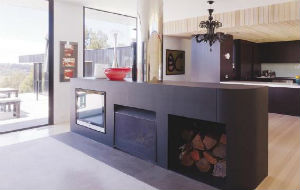 Photography Peter Bennetts

Chris Harty and Chris Botterill formed Christopherchris Pty Ltd in 2003 as a means of exploring architectural ideas, realising the dreams developed throughout years of study, travel and working for other architects throughout Australia.
Studying architecture together in Tasmania and Scotland and travelling throughout Europe together created opportunities to experience life's riches through the daily lives of other cultures. Today, these shared experiences allow for a jamming of ideas, so much so that the end result is never simply authored by one director or the other. Chris Botterill has a passion for music, and Chris Harty a passion for contemporary art; together they share a passion for technology that combines to deliver architecture for their clients to amplify their pleasures of life.
Both men strive to sustain high-quality architecture, with careful attention to detail throughout each project.
"I believe Christopherchris Architecture produces buildings that are progressive and optimistic, using a palette of noble materials to create a sophisticated, unique appearance designed for longevity," said Chris Harty.
"The fresh approach to material selection and the detail and placement of materials includes practical application of ESD principles that are no longer a specialty or add-on, but an integral part of each project. Harvesting rainwater in storage tanks is now commonplace, solar water heating panels on the rooftop no longer the town planner's eyesore. In time, double-glazing will be common and solar electric panels returning power to the grid and grey water treatment an affordable and sensible solution."
Architects are always trying to solve everyone's problems; the future of the built environment in Australia is now supported by changes to legislation, arming architects with a measurable process and justification to put into practice details proven through research to reduce energy consumption and use of precious resources. Some of the architectural community are steering the direction of sustainable design through delivery of projects that, with media interest and promotion, are becoming desirable to a much greater audience.
The Red Hill residence featured is located in the Mornington Peninsula in Victoria. "Chris and I relished completing this, the practice's first major project. The textures and materials were selected to age gracefully, forming a patina to mimic the colour of the surrounding bush with crisp highlights of stark white and dynamic flashes of red that are anything but muted."
Constructed primarily from locally sourced rammed earth and ship-lapped cedar panelling, the house is sited across the ridge of the property. The contemporary design features contrasting materials, with the rolling countryside outdoors. The orientation captures the morning light and protects from the harsh afternoon summer sun, while taking in the beautiful valley and coastal views. A rammed earth wall faces west, shaded by long eaves to protect it from the summer heat.
Other eco-friendly features include the use of non-oil-based stain on the exterior timber planks and tanks to store rainwater harvested from the roof.
Inside, floor-to-ceiling windows provide views of the spectacular countryside. The open-plan living and dining area and kitchen all lead out to the deck. The kitchen is sleek and modern, featuring a black and white theme with ebony cupboards, benchtops in CaesarStone, a glass splashback and a dramatic cedar-panelled ceiling with recessed downlights.
Limewashed Victorian ash floorboards feature throughout the house. Interior walls are Dulux White on White contrasted with occasional feature walls in stained cedar. Dramatic flashes of red are used on a glass panel at the entrance and on the carpet in the children's bedrooms, which are located in the far right wing, while the study/guestroom is near the entrance. Upstairs, the master bedroom is privileged to a unique vista down the peninsula and onwards to Bass Strait.
Furnishings, which continue the basically black and white colour scheme, are modern, sourced by the owners from their favourite stores including Space, RG Madden and Ross Nicols.
Residential design is at the core of Christopherchris. "Chris and I create harmonious and memorable spaces that reflect the contemporary lifestyles of our clients. A pared-back approach to design is a reaction to the unconsidered clutter of modern-day life; some may say minimalism, but I prefer to call it restraint."
For more information visit www.christopherchris.com.au