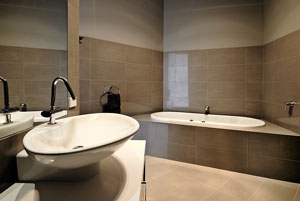 Thanks to modern technology, the humble bathroom has undergone a major transformation with quality products from Plumbtec

Choosing a bath is no longer a simple decision between a built-in style or freestanding design. Available in all shapes and sizes, today's tubs are made from a range of materials, from luxurious stone to crushed almond shells. Showers, too, have come a long way, with beautiful designs, finishes, and even water-saving taps.
Plumbtec will create a great bathroom, kitchen or laundry — whatever you've got planned for your next makeover, renovation, and extension or new home. Plumbtec stocks all the big brands and, most importantly, has experienced staff on hand who genuinely want to help you explore and design a kitchen or bathroom that will make your dreams come to life.
Plumbtec helps create bathrooms, kitchens and laundries with functional and affordable, modern or traditional designs to match your home, your budget and your lifestyle. Reflecting the strength of a group that has grown to become a fully national group with over 200 stores around Australia, Plumbtec members have all built their businesses servicing the plumbing trade. They know plumbing backwards and now, as part of a national plumbing network, they can service your needs even better.
A quick visit to your local Plumbtec showroom and a chat to their experienced staff will soon provide you with the right information, brochures and a large selection of kitchen, bathroom and laundry products. Plumbtec's dedicated trained staff are totally committed to home renovators who are extending or building and the keen do-it-yourselfers doing a makeover.
Whether it's general information, product information, pricing or availability, Plumbtec can help you get on with the job. Plumbtec stores open early and can deliver your needs on-site.
Project particulars
THIS PROJECT WAS BUILT BY: A&C Strangio Builders
The bathroom features products supplied by BURDENS PLUMBING, a member of the Plumbtec Group
PHONE: (03) 9753 5166
Plumbtec has more than 200 stores around Australia
For more information and store locations
PHONE: 13 13 46
BATH: Stylus President Acrylic Bath
BATH TAPS: Novelli
CEILING SHOWER: Brewers Shower Bush Rose + Ceiling Arm
SHOWER: Novelli Hand Shower Set On Rail
BASIN: Caroma Leda Vasque Inset Basin
TAPS: Novelli
HEATING: Heirloom Heated Ladder Towel Rail.