With a range of classes from intricate seasonal dinner party dishes to French family cooking, Quarter Twenty One will teach you how to think like a cook.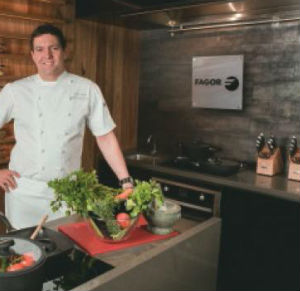 Launched by Justin and Georgina North, of Becasse and Etch fame, Quarter Twenty One is based in Westfield Sydney and encompasses a cooking school, the relocated Becasse restaurant, a retail bakery, plus a catering section. Open and light, the cooking school sits enclosed by glass in the centre of the retail area. The brand new cooking school has been kitted out with state-of-the-art equipment including ovens and cooktops by Fagor.
The goal was to create a relaxed atmosphere, to retain a feeling of home, and allow for conversation and sharing of knowledge. A wide range of guest chefs, including some of the best chefs in the country, reflect the philosophy that places the soul at the centre of all activity. The restaurant provides food for the soul, the bakery and providore allow you to shop for your soul, and the cooking school will teach you how to cook for your soul.
The classes are designed to teach much more than simply creating the dish. The goal is to explain the reasoning behind the dish, the science of food and the techniques needed. With a focus on seasonal, local produce, class attendees will learn to cook with classic techniques and engage with cooking school teachers and guest chefs to hear more about their ideas and philosophies. Take this opportunity to open your eyes to a different approach to cooking, whether the class is focusing on modern Japanese to laid back Italian or molecular gastronomy.
The program includes classes on technique (bread making and butchery) as well as inspirational classes (seasonal menus, time spent with producers). You don't have to be an experienced home cook to take a class here — there are also classes for kitchen novices and everyone in between. Class times range from express 45-minute classes, hands-on classes (including lunch, wine and leftovers to take home) and relaxed demonstration classes.
"Fagor commercial appliances have been the trusted brand for over 25 years in many of Australia's top restaurant kitchens. Fagor is a market leader throughout Europe in the home appliance industry and number one in France and Spain. Fagor is also the market leader in pyrolytic (self cleaning) ovens and induction cooking," says Greg Raine, National Sales Manager for Fagor (Home Appliances). "When we heard that Justin North was outfitting his restaurant kitchens with Fagor and wanted Fagor domestic for the Quarter Twenty One cookery school, we saw it as a great opportunity for people to experience Fagor domestic appliances and their superior performance. So far, the feedback on the Cookery School and Fagor has been very positive as participants experience the advantages of induction and pyrolytic cooking while creating a culinary masterpiece under the watchful eye of a professional chef."
DETAILS
Quarter Twenty One Level 5, Shop 5018, Westfield Sydney Cnr Castlereagh and Market Streets, Sydney
Phone: (02) 9283 3440
Email: cookeryschool@quartertwentyone.com.au 
Website: www.quartertwentyone.com.au
Home Appliances (distributors of Fagor) 20 Carlotta Street Artarmon NSW 2064
 Phone: (02) 9958 3111
Website: www.fagorappliances.com.au