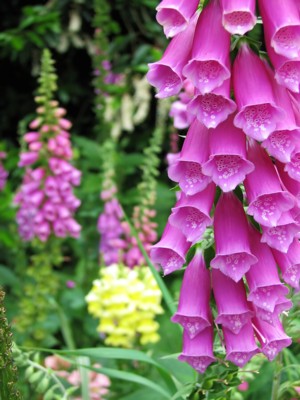 There's no denying the enduring appeal of the country cottage garden
Story: Karen Booth
Now that we're finally coming to grips with the changed gardening practices that drought and water restrictions have brought about, we're seeing a move away from the more minimalist gardens that have predominated in recent years and a renewed interest in the plant-filled, English-country-style gardens our grandparents grew. Gardens full of rustic charm, flowering plants and wonderful fragrances.
While we may not be able to use all the same plants as grandma did or lavish as much town water on our gardens, there are plenty of hardy flowering plants we can use — including natives and succulents. If we choose our plants well and follow the rules of water-wise gardening, there is no reason why we can't create our own 21st century versions of the traditional country cottage-style garden.
If you're enamoured of flowers — but not rigid design rules — the country cottage-style approach is for you. The only rule with the cottage garden is you need to have flowers and plenty of them; climbing over the pergola, lining the path to the front door, tumbling from pots on the verandah.
The goal is to create a plant-filled oasis of colour and scent but no single flower is essential, so if you're not a fan of foxgloves or hollyhocks, leave them out. By the same token, if there is a plant you do like but you know it won't grow easily in your garden, substitute it for something else. If delphiniums struggle to survive in your garden, use blue salvias instead. As time passes you will develop the knowledge and confidence to create a garden that is uniquely your own.
The one thing you cannot do without is scent, but as there are plenty of fragrant shrubs and trees you can use to complement your fragrant annuals, perennials and bulbs, there is no excuse for not creating a garden redolent with scent throughout the year — even in winter.
In fact, you might be surprised how many fragrant plants flower in winter, among them the hardy Lonicera fragrantissima, a honeysuckle that produces small, white, mid-winter blooms, Daphne odora , which is dotted with lemon-scented winter flowers in white or pink, and the low growing, clump forming Alyssum, which is smothered in tiny honey-scented blooms during the winter months. And, if you're a fan of bulbs, jonquils, hyacinths and freesias all produce perfumed flowers in winter.
While it is true that there is quite a range of very hardy cottage-style plants — the carpet rose, for example, is long-flowering and near indestructible — but any country cottage garden is going to require more maintenance than a garden filled with sculptural foliage plants like cordylines, flaxes and yuccas, so be prepared.
Being long-lasting, perennials tend to form the backbone of any country-style planting scheme. The list of perennials can seem never-ending and includes old-time favourites such as agapanthus, Marguerite daisies, dahlias, day lilies, hellebores, phlox and pelargonium. For best effect, mix perennials with annuals (such as cornflowers, lobelia, and forget-me-nots) and biennials (such as foxgloves, Canterbury bells, and wallflowers).
And let's not forget the rose, which deserves a special mention of its own. After all, what country-cottage garden would be complete without a climbing rose over an arch or around the front door? If you're not a fan of the rose, or its thorns, there are lots of lovely climbing plants you can use to create a similar effect, such as jasmine.
Plants with aromatic leaves can also be a delight in the country garden. Because scented leaved plants have to be touched to release their fragrance, they tend to be placed in the front row of a garden bed or used as an edging plant along a path or around a terrace where they can be brushed as you pass by.
Perhaps the best-known and most often used scented plant is lavender. Prized for its hardiness and ability to do well in dry conditions once established, lavender is a cottage garden favourite. Both the grey leaves and flower spikes produce scent and there are several species and varieties to choose from.
And don't forget the herbs and vegetables. Create a vegetable patch or a herb garden near the kitchen. Or try the potager garden approach where you mix the herbs and vegetables among the flowers.
But creating a relaxed, country-cottage-style ambience in a garden isn't just about the plants. It's about creating places to go (a seat placed beneath a vine-clad arbor), pleasing ways to get there (a paved avenue flanked by a wisteria-entwined colonnade), vistas to be enjoyed (a bubbling fountain placed at the end of a gravel path) and ornamentation (a sundial set atop a stone plinth, a cupid statue nestled amid foliage, an old wheelbarrow called into duty as a planter).
Ultimately, it's about abundance, respect for the past, a love of romance, an appreciation of the more genteel things in life, and self-expression. It's about creating a garden where the individual components are there to contribute to the overall effect rather than stand out in stark relief. And it's about feeling good. In a country garden, you want to slow down and take time to smell the roses.