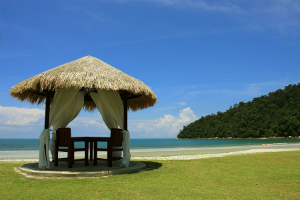 Bali-style gazebos add an air of the exotic to any outdoor living space
Extend inside living to the outside with a Balinese gazebo. A stunning feature in its own right, a Bali-style gazebo will help you keep cool on a hot day while providing a romantic hideaway on a long summer night. In fact, say Peter and Marjan from Gazebo Direct, a Balinese gazebo is the ideal shade solution.
"Of all the shade options available, the Bali hut is definitely the most exotic and charming. You can have the traditional Bali style, with wood carvings and a terracotta crown, or a more contemporary style, such as a timber shingle roof," says Marjan. "Our gazebos fit easily into both small and average-sized backyards and the waterproof alang-alang grass roof insulates so well that on a hot summer day it will be about five degrees cooler underneath it."
For maximum design flexibility, gazebos are available in a variety of options — with or without flooring (choices include marble and other types of stone); round or square posts; full- or low-height walling; built-in benches and blinds. Standard sizes range between 2m x 2m up to 4m x 6m, but as the gazebos are custom made in Gazebo Direct's own factory in Bali — offering a great combination of Balinese handiwork and Western standards — they can be manufactured to almost any size.
"That is why we call them 'gazebos with a difference'," says Peter. "One of the important facts about our gazebos is they come in kit form — the roof comes in panels with the thatching already on it — and they can be installed by the home handyman, or your landscaper, by following our pictorial instructions."
All products can be freighted anywhere in Australia or the world, including their Complete Knock Down D.I.Y. gazebo kit or terracotta tiled-roof gazebos.
GAZEBO DIRECT
1404 Pittwater Road
North Narrabeen NSW 2101
Tel: (02) 9970 7758
Fax: (02) 9970 5336
Email: sales@gazebodirect.com.au
Website: www.gazebodirect.com.au
Distributors' enquiries:
Tel: 1300 734 968