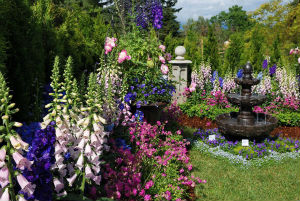 An elegant and functional courtyard design shows how easy it is to maximise small outdoor spaces

Story: Carrol Baker
Photos: Ron Tan
Just because you have an outdoor living space, it doesn't mean you have to compromise on style or functionality. In Mount Claremont, a suburb of Perth, the owners of an elegant courtyard garden discovered that good things really do come in small sizes.
The stylish garden design complements the owners' Tuscan style home. Traditional Tuscan decorating is inspired by the colours and textures of nature and often features intricate wrought iron accessories, cool marble flooring, and sun drenched stone walls. This garden courtyard captures some of these elements and uniquely blends them with a sophisticated, formal look.
From the leafy, lush plantings to the soothing sounds of the water feature, the transformation of this 12m x 5m entry courtyard — guided by landscape designer Janine Mendel from CultivArt Landscape Design — has been complete.
The owners, Wayne and Wendy, wanted to create two separate areas — a duet of courtyards that would harmonise effortlessly with each other and the recently renovated front rooms of the house (a study/sitting room and a formal dining room) that opened out onto the existing courtyard space.
"The owners wanted a stunning formal entry to the house and a warm inviting area for cocktail parties, where guests could spill out from the formal dining room on hot summer nights," says Janine. "It also needed to be visually appealing from both front rooms."
The colour palette is neutral with rich, luxurious creams infused with splashes of limestone grey contributed by the pots, feature tiles, and cushions.
Careful selection of plantings adds a shimmer of sophistication. Plants include dwarf magnolia (Magnolia grandiflora 'Little Gem'), used for screening, sago palm, low box hedging, and a ground cover of native violets, all of which complement the formal style of the garden. Splashes of seasonal colour are contributed by the espaliered sasanqua camellias which come into bloom autumn and early winter, while the pink-flowering Mandevilla 'Splendens', which wind over and around the arbour, add bursts of vibrant colour during their long spring-summer flowering period.
The garden also incorporates some all-important water-wise features. Soak wells were added as needed and bulk soil improvement was carried out so that the garden beds would retain water more efficiently.
The arbour seat offers the perfect vantage point to relax in the garden. The stylish wrought iron gates and awnings over the French doors add a touch of sophistication.
Paving is contemporary style UrbanStone cut limestone with 100mm x 100mm tumbled black granite cobblestone insets. The black cobble features define the separate areas of each courtyard.
On one side of the courtyard a sculpture and water feature clad in black and bronze glass mosaic tiles adds a touch of cool tranquillity. The back of the water feature is finished with tumbled marble tiles and the pond is home to an assortment of water plants, including water celery (Oenanthe javanica), and fish.
A circular garden is a focal point on the other side with water-wise plantings of dwarf mondo grass and dwarf lilly pilly (Acmena 'Allyn Magic') with its deep green foliage and attractive bronze coloured new growth. An artfully designed urn provides a central, formal focus.
Thanks to a clever design, a separate walled area was constructed to store bins and other garden equipment. Throughout, the low rendered brick walls were painted to match the house and capped with a sandstone bullnose tile to create additional seating.
In smaller garden spaces, smart lighting design can extend the visual plane. It can also add warmth and interest. In this courtyard garden small recessed LED brass lights in the paving delineate the circular features and there is submersible lighting to the pond, says Janine. Subtle uplighting to the trees, and imported French lantern type lights either side of the wrought iron awnings, complete the look.