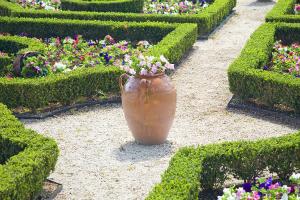 A harbourside courtyard goes from dull and drab to lush and inviting
Story: Louise Weihart
Photos: Diane Norris
A smart, understated design has transformed a small courtyard in Sydney's Exile Bay from a drab and dull space into an inviting area with a fresh new look.
Nestled within a large harbourside complex, the house was spacious and stylish but the outdoor spaces were limited and uninviting. Although the owners had access to all the recreational facilities the complex provides, they wanted to be able to enjoy the full benefits of having their own private outdoor living areas and until Rod Fletcher of Fletcher Landscapes set about working his magic, there was certainly nothing to enjoy in this small courtyard at the front of the house.
As Rod recalls: "The space was drab, dull, tasteless and unappealing. It had charcoal-coloured pavers and terracotta, was overgrown with clivea and palms, had awkward access and poor lighting at night."
Several years earlier, Rod had transformed the owners' rear garden and they were so happy with the result that they knew Rod was their man to create something special this time round, too.
Their brief to Rod was to create a practical, low-maintenance front courtyard that would make the most of the courtyard's southerly aspect and scarcity of sunlight. Today, the owners enjoy an inviting new area that makes the best possible use of the limited space, is easily accessible and practical to boot.
Right from the entry point, one is encouraged to explore an appealing area that gives the illusion of having more space than there really is. Rod achieved this by using stepping stones, modular pavers and Ophiopogon japonicus (mondo grass) to create a more inviting and seemingly larger space.
He also made it more accessible by focusing on and clearing out the entry point. Rod decided to keep the established palms for a relaxed look, including on each side of the entry gate. He replaced the existing spotlights with halogen lighting under the palms on either side of the entry gate. This served to illuminate the foliage and contributed to achieving an enlightening entry.
"As more and more Australians seek the sense of community that living in a medium-density development brings, landscape designers are being asked to find creative ways of transforming diminutive garden spaces into multi-functional outdoor living areas," says Rod.
The design Rod chose was contemporary, neat and understated, in keeping with the tone of the home, and adding vital extra living space. The overall look is relaxed and simple. Striking plant stock combines with carefully selected pavers and pebbles to make a definitive design statement.
For the paving, Rod selected Cobb & Co pavers, a new natural stone range from Eco Concepts. Made from a quartz limestone, these pavers are extremely dense and hard-wearing and, with their non-slip natural split finish, they are ideal for external and internal floors.
Rod admits that maximising the space in this small courtyard was a design and construction challenge, but one that he and his team relished. "When it comes to projects like these," says Rod, "the trick is to keep it simple."
Rod says it is important to use materials that you like, but they should also encourage the outcome of the job and not result in clutter. In small areas, he suggests the use of the largest stepping or paving units possible to create the illusion of space.
He also sets great store in co-ordinating foliage to work with the fencing for a softer garden feel. And, he advises: "Don't go over-the-top with too many structural elements". Rather, he says: "Dress up the garden with quirky, subtle corner features like figurines, pots or whatever takes your fancy."