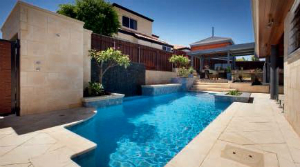 This Perth garden boasts a beautifully designed, techno-savvy new pool
The Water's Edge has created a swimming sanctuary in this Perth garden — something that caters to all members of the family. It also successfully resolves the challenges posed by the sloping, multi-level site.
With a focus on outdoor living, the swimming pool features a gazebo and sundeck as well as an outdoor kitchen — the designer's favourite feature. "With its high ceilings made of Western Australian timber, it looks like the galley of a luxury ocean liner. We planned this area to be a hub of activity around the pool," says Steve Nener, designer of the pool and manager of The Water's Edge.
Steve chose a stack-stone water feature with a built-in water blade. This forms a stunning focal point that can be seen from inside the home. The plant room has been fully screened by the natural limestone feature wall, resulting in clean lines and a mess-free finish. A Rainbow Quartz interior creates an iridescent effect, contrasted by smaller tiles on the pool's interior. Simple landscaping of frangipanis in raised planter boxes creates a stylish, summery finish.
The pool's water environment is a blend of magnesium and potassium minerals, using a new filtration system created by Magnapool. Steve chose this as an alternative to salt or chlorine, as it is gentle, environmentally friendly and free of harsh chemicals. "The Magnapool system requires very little backwashing and the plants chosen are low water users. We can turn your existing pool into your own private mineral spring," he says. The pool also uses a Poolrite pump and filter and an Elite Hideaway solar blanket and roller.