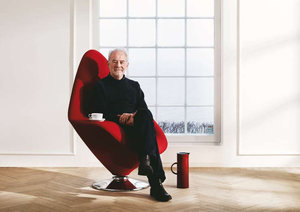 Educated in ceramics at the Danish Design School in Copenhagen, and later completing a graphics course at the Royal Danish Academy, Erik Magnussen has become one of Denmark's most prominent and versatile designers.
While his work varies from furniture and tableware to lamps and high-tech products, Erik originally began as a ceramist after four years of study and it is since this experience that he has developed a preference for designing objects close to the body. Erik credits this ceramist background to the inscribed design methods he uses today. "Ceramics made it possible to learn about the whole process: preparing the material and working it, working with the details, moulding, burning and glazing," Erik explains. "Working with clay taught me most of what I use in everyday work." Although his designs have an intrinsic simplicity and functional elegance, Erik believes his designs form no particular style and admits he tries to go back to point zero with every new design. "If they seem to have a common style it must be functionalism — but that I find a bit too puritan," says Erik. "My designs are more subjective and in principle made for myself. Why? Because I see myself as a standard consumer." Despite any theories on Erik's particular style, he says he draws his inspiration from "everywhere and everybody", even from "doing nothing. I have no specific procedure for starting my projects — it varies from item to item. An important source of inspiration is conversations, with people working in completely different fields, anyone who knows something about something."
Given that many of his designs are functional to the purpose the object holds in everyday life, this aspect of the process is important for his concepts. In fact, his latest design for Engelbrechts, the Plateau chair, was adapted to suit contemporary lounge chair behaviour. The concept of the design initiated from what Erik says was a "lack in Engelbrechts' program — a missing lounge chair". After the object was decided upon, Erik proceeded to uncover how one could add to a typical lounge chair and asked questions to understand what people do on a lounge. His answers included seek a little privacy, have meetings, work alone, and have a cup of coffee. By looking at the Plateau chair it is easy to see how he got from these initial ideas to the final design. "I always strive to give objects a physiognomy. I wanted to add something and — at the same time — do it in a shape that would be interesting to look at from all directions." The idea of aesthetically pleasing design is core to Erik's work and rather than looking up to particular designers of the past or present, Erik says it is more so that there are designs that please him every time he sees them. Some of his favourites include Fiskars' orange-handled scissors, Mies van der Rohe's Barcelona chair, Kaj Franck's Teema and Konstantin Grcic's Chair One.
In terms of being environmentally friendly, Erik keeps up to date with new materials and processes that are beneficial, however he says, "The absolute number-one way of being environmentally friendly when designing objects is to make them durable." Other popular designs by Erik include a stackable plywood chair design named Chairik, available from Engelbrechts, as well as his better-known Thermo Jug, which was designed for Stelton more than 30 years ago. 
For more information, visit www.engelbrechts. com, www.magnussen-design.com or www.interstudio.com.au