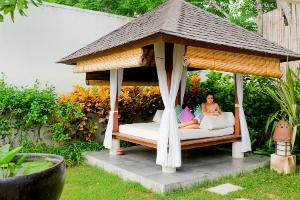 Adaptable furniture for any outdoor room
By John Storch

Daybeds
A daybed enhances any outdoor room or space and is the perfect place to snooze or relax and read your favorite novel during the day. For those lucky enough to have one installed inside a poolside cabana, a daybed makes a great place for overnight guests to sleep.
Daybeds were first made popular in China during the Ming dynasty (1368–1644) and were primarily used for internal spaces. Their styles, of course, have evolved over the years and more recently they have been used predominantly outside the home as a vital part of the outdoor room or garden space.
A cross between chaise longue, a couch and a bed, daybeds can be split into three general styles: traditional, classic and contemporary. They can be built site-specific or bought ready made with innovative designs and material finishes that can make them the focus of any outdoor room.
When buying a daybed, you'll find a wide selection of designs ranging from whimsical to casual to elegant and they can be manufactured in a range of quality materials, including wood, metal, masonry and wicker.
Beyond the traditional daybed with back-rest and arm-rests is the trundle daybed, which has a secondary mattress that can concertina out to double the size of the bed when it is in place.
Investing in a daybed can also be a practical space-saving idea, especially those that are built for the site. It can be used as an alternative to wall storage cupboards by utilising the hollow base of the bed as a storage option for kids' toys, pool playthings or gardening tools that need to be quickly hidden when guests arrive.
The cushions and mattresses of the daybed itself can also be stored out of the weather to keep them in mint condition for years to come.
While ready made daybeds can provide the option to update readily as styles change, those designed and built site-specific allow you to make a bold design statement and have the flexibility to incorporate them into your outdoor table setting, kitchenette or swimming pool facility.
It's all in the detail
Look for trendy detailing to complement your daybed. It can be any soft furnishings, such as all-weather mattresses made of acrylic fabrics and matching or contrasting cushions and throw rugs. Take into consideration the surrounding homewares such as scented candles, sculptures, furniture and art to help individualise your daybed setting. By simply changing the detailing, your daybed will immediately become updated and the new focal point of any outdoor room.
Detailing can be further enhanced by using a combination of textures in the construction of the daybed. Timber with an aluminium frame or real wicker and a resin material with wrought iron makes a gorgeous mix of textures that will give your daybed character while being able to withstand any type of weather.
Our Australian alfresco lifestyles revolve around our outdoor leisure and entertaining spaces, so it's essential to ensure that these extensions of our homes are designed with careful consideration.
By designing or selecting the right daybed and using your imagination and creativity to develop the garden areas, you can have your very own relaxing oasis right outside your door.
Daybeds are one of the latest trends in outdoor furniture design and are an integral part of our external rooms in terms of space and comfort. They provide a minimalist approach to furniture while maximising the valuable outdoor area by providing three pieces of furniture in one: a bed, a seat and a practical storage space.
A cross between a chaise longue, a couch and a bed, daybeds can be split into three general styles: traditional, classic and contemporary.
John Storch is  principal of A Total Concept Landscape Architects & Swimming Pool Designers, www.atotalconcept.com.au