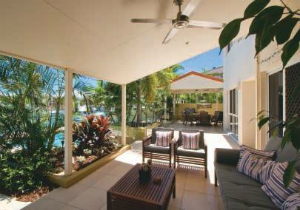 Front to back, this inviting waterside property in Brisbane is of modern tropical design
Words: Carrol Baker
Photos: Patrick Redmond
Chic, minimalist styling and warm, tropical elements combine to create this stunning bayside garden. An eye-catching, contemporary garden that caters for various styles of entertaining and relaxation, it was designed by Nick Moore of Nick Moore Design, who looked to Aesthetic Landscapes to build it.
Nick explains that the owners of this inviting Brisbane property had adult children living at home so wanted additional outdoor living areas where they could entertain their friends. Now, the whole family is spoilt for choice whenever relatives, neighbours or friends drop in.
All the garden spaces are well defined but not enclosed, maintaining the feeling of spaciousness, and creating lush, leafy garden rooms that capture the different aspects of the property and allow the family to enjoy their waterside location.
The 4m x 2.5m-wide stepped kwila timber deck, a feature of the new rear garden design, is a multi-functional structure. It's an ideal place to sit, relax and take in the glorious water views or watch as friends dock their boats at the private jetty. The decking also leads to an open lawn area, where children can play on the cool, soft grass, while broad timber steps lead from the deck to the side of the house.
The sweeping curves of the deck mirror the curved shapes used in the front garden, visually connecting the front to the back. Designing the front garden posed something of a challenge. "A front garden should have visual impact but is normally designed only to be travelled through," explains Nick. "We needed to create a garden room that could be utilised as a quiet outdoor living space. And with a busy road nearby, it was essential that the new design afford privacy from the road and passers-by."
The resulting design, which has the feel of a contemporary walled courtyard-style space, has created for the owners a cool, contemplative garden room. Lush, leafy tropical plants border a stepped rendered block wall in pale mustard that creates a sound barrier and offers privacy. The feature cutout windows allow dappled sunlight to filter through and a stunning ceramic artwork, New Zealand Landscape by artist Suvira McDonald, sits on one of the rendered walls, acting as a focal point.
Other features of the front garden include sandstone walling and paving as well as a bespoke timber gate.
Front and back gardens feature a variety of leafy, tropical plants, each planted and placed with great care. "Clever plant placement is an integral part of creating garden rooms," says Nick. "From a design perspective, you can make a space look bigger by having a thick bed of vegetation around it. You can also block views to other spaces in the gardens, posing the question 'What is beyond that space?'
"Once the garden design is bedded down, that's when I start looking at textures, colours, sizes and aesthetics," he adds.
A decorative eumundi quandong (Elaeocarpus eumundi) is featured, along with philodendrons interspersed with vibrant grevillea 'Flamingo' and grevillea 'Jester'. Around the pool area, Foxtail palms with their long foxtail-like fronds form a striking display with golden cane palms adding texture and interest and bold cordylines adding a splash of colour.
Before planting the new gardens, the soil needed to be refurbished. As it was a slightly clay soil, gypsum was added. An automatic subsurface drip-feed irrigation system was installed for use during the drier months and the garden beds were topped off with a water-conserving layer of mulch.
According to Nick, garden designs like this one are all about increasing the value of our lifestyles on both a macro and micro level. "It's about making spaces that allow families the opportunity to create fond memories and to spend time with family and friends. The other essential is considering the bigger picture and creating environmentally responsible and sustainable spaces," he says.